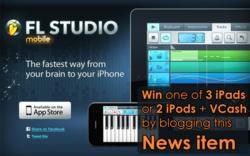 FL Studio Mobile is sure to become a big player, instantly, in the iOS music market
(PRWEB) June 21, 2011
FL Studio (for Windows) has become one of the most popular software music production platforms for musicians, with an average of over 30,000 downloads per day! Now FL Studio Mobile adds convenience and flexibility for music producers on the go.
iPod, iPhone & iPad Versions

FL Studio Mobile: for iPhone & iPod Touch ($14.99 introductory and $19.99 after).
FL Studio Mobile HD: for iPad ($19.99 introductory and $24.99 after).
FL Studio Mobile Key Features
Load and extend projects in the FL Studio Windows version
Resizable, stackable piano keys & reconfigurable drum-pads
Stuffed with FL Studio quality instruments, drum kits & loop files
99-track sequencer, Piano roll editor & Step sequencer
WAV, MIDI & FLM (project) import/export
iPad HD version, iPhone 4 Retina Display support
Compatible with the Akai SynthStation 25
Go to the App Store and search for FL Studio Mobile or FL Studio Mobile HD. For customers with an iPhone/iPod Touch they need the FL Studio Mobile version, customers with an iPad need the FL Studio Mobile HD version.
Blog To Win
Blog this news release to be in the running to win an iPad 2 + IL VCash or iPod Touch + IL VCash. See the Image-Line News Release for more details
FL Studio Mobile FAQ
What about Android OS?
It's on the roadmap. We have a development team working on a low-latency Android audio-engine and there are many screen resolutions and device specifications to consider.
Can I load my own samples?
Not in version 1.0. We plan to enable user uploads in a future update.
Can I use VSTs?
No, iOS does not support VSTs and frankly the devices it runs on don't have the CPU power to perform the synthesis you are used to on a desktop. FL Studio Mobile uses high quality sample based instruments made from Image-Line plugins and sample packs.
Does this mean FL Studio on Mac OSX soon?
FL Studio Mobile is not a port of the Windows version of FL Studio. It is the product of a completely separate development team, and code, so FL Studio Mobile, while compatible with FL Studio has no impact on FL Studio development and vice versa.
Additional information on FL Studio is available at http://www.flstudiomobile.com
About Image-Line Software
Established in 1994, Image Line Software provides high quality music applications to the computer-based music community and is well known for its leading digital audio workstation FL Studio (formerly FruityLoops), high quality synthesizers including Sytrus, PoiZone,Toxic Biohazard, Morphine, Ogun and Sawer, a mix of innovative Effect plugins like Maximus and Hardcore and range of sample libraries used in their multi-sampler plugins DirectWave and Soundfont Player. In May 2007 Image Line Software released its acclaimed DJ mixing software application Deckadance. In addition to its audio software, Image Line Software develops and distributes the web site building application, EZGenerator.
For more information, please contact:
Scott Fisher, Communications Manager
Image Line Software
E-mail: press(at)image-line(dot)com
http://www.image-line.com/documents/news.php
# # #