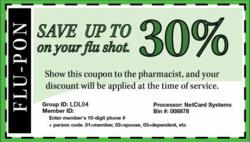 A free flu shot disount coupon saves money and time.
Boise, Idaho (PRWEB) October 27, 2012
LifeSource Direct announced today a flu shot discount coupon for savings up to 30% on flu shots. The flu shot providers include many national retailers and pharmacy chains (see enclosed flu coupon for details or visit the website). In addition, users of the coupon can realize additional savings on prescriptions and health care services with use of the LifeSource Direct WellCard.
To use the discount coupon for a flu shot, the coupon need to be printed and presented to the participating pharmacist. The discount will be applied at the time of service. The coupon is found at http://lifesourcedirect.com/health-benefits-guide/flu-shot-discount-coupon/.
A spokesperson for LifeSource Direct commented that "flu season is here again and a flu shot is the best prevention method. By providing this flu shot discount coupon, we hope to incent our own company employees and their families to get the flu shot and help prevent the flu from disrupting our work and personal lives." He further added that " the free coupon is available for anyone to print and take into any of the participating retail pharmacies."
About LifeSource Direct
LifeSource Direct ( http://lifesourcedirect.com ) was formed to create a dynamic, state of the art, direct sales life insurance company backed by an experienced and professional staff. Incorporating the latest cutting edge technology with one of the best consumer support staffs in the industry assures a simple and easy process for purchasing life insurance. LifeSource Direct works with top rated insurance carriers including Prudential, SBLI, RBC, Banner Life, MetLife, Lincoln, Nacolah, Transamerica, ING and Genworth Financial. LifeSource Direct now works with thousands of people every year to find them the right term life insurance at the right price. In addition LifeSource Direct offers many ancillary products that can benefit the consumer.
Disclaimer: This is not insurance. It is a program that provides access to discounts on health care and other services with participating providers. Cardholders are responsible for paying the discounted cost at the time of service. WellCard Health has no membership fee.