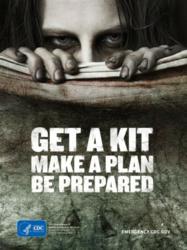 Although we'll get through this season once again, it should come as a wake-up call to get prepared for something bigger now.
Los Angeles, CA (PRWEB) January 13, 2013
According to a Reuters' article released on January 9th, 2013 by Kate Kelland, 'New Strain of Norovirus Spreads Around The World', the Centers for Disease Control and Prevention say Norovirus causes 21 million illnesses a year in the United States alone, with 70,000 cases requiring hospitalization and around 800 ending in death.
Ian Goodfellow, a scientist who has studied Norovirus for 10 years, describes it as "the Ferrari of the virus world" and "one of the most infectious viruses of man". Statistics reveal that infections are 63 percent higher than at this time last year, and coupling the Norovirus with the current strike of Influenza makes this year an extremely contagious one.
A Globe article by Deborah Kotz entitled, 'Is it the flu or norovirus? How to tell the difference', explains that the flu is an upper respiratory infection that causes sore throat, chills, body aches, runny nose, and coughing, while Norovirus is a gastrointestinal illness that causes diarrhea, vomiting, and nausea.
Dr. Joshua Kosowsky, vice chair and clinical director of Brigham and Women's Hospital's emergency department states, "Both infectious diseases are very common and very contagious. It's not inconceivable to get both this season."
"We have a scenario developing which should give preparedness-minded people a good indication of how fast a serious contagion might turn into a worldwide Pandemic," says a company spokesman from ContagionSurvival.com, a respiratory preparedness company in Los Angeles. "Everybody will know someone who is infected this year, and that may mean even in your own household. Although we'll get through this season once again, it should come as a wake-up call to get prepared for something bigger now."
"The CDC and the World Health Organization claim that a devastating worldwide Pandemic is inevitable, with an estimated 100 million infected and over a million deaths," the spokesman continues. "When that scenario unwinds, there will be little chance of getting groceries or medicines, much less protective suits and breathing apparatus. But I know that I'll have the protection my family will need, along with the knowledge of how to use it."
http://www.ContagionSurvival.com specializes in Family Contagion Kits ranging from under ten dollars to over five-hundred, as well as hard-to-find professional gear designed to blow clean air into hoods and suits that protect against Chemical, Biological, Radiological and Nuclear threats. Visit them online or call 866-305-1753 for more information.