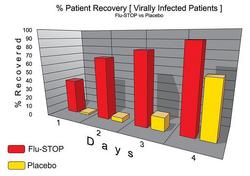 Even private schools are calling to get large amounts of the product for their staff and students.
Vancouver, BC (PRWEB) October 15, 2009
FluStop has had a rapid acceleration in sales growth in 2009 due to the high awareness of influenza. Since coming onto the marketplace in 2007, the product has been gathering a following. "I now get calls from across North America and even as far as London England and Hong Kong," said Greg Gerrie, the company's CEO. "Even private schools are calling to get large amounts of the product for their staff and students."
Developed by a leading virologist, FluStop is a natural herbal throat spray solution which, through WHO approved clinical testing, has been shown to inactivate the Hemagglutinin (HA) and Neuraminidase (NA) in types A and B influenza. When the HA and NA, which are the tentacles that stick out of all viruses, are inactivated then the virus is unable to infect the healthy cells and thus replication prevention occurs.
On a recent webinar hosted by life-enthusiast.com, Mr. Gerrie was asked about the recent study which revealed that chances of getting H1N1 are doubled if people had a regular flu shot. "When you bypass our God given natural immune system and inject foreign matter into your body to trick it into developing anti-bodies, you might want to investigate further," said Gerrie. Gerrie, who is more a marketer than a scientist, has had to learn about the complexities of this subject and gets his information from Dr. Sherri Tenpenny who has done more than 6000 hours of research on the subject of immunization.
Gerrie says he is delighted when he hears how happy people are with the product. Dr. Melissa Carr of Active Life Health Clinic in Vancouver states, "I have found Flu-STOP to be an easy solution and have had great feedback from my patients." The product benefits are immediate access and easy safe self-administration. FluStop is safe for children and taken just five times per day can eradicate flu symptoms within 8 to 72 hours.
FluStop is sprayed to the back of the throat and nose and makes direct contact with any virus activity and/or bacteria formations. Users are advised not to eat or drink for 30 minutes to allow the formula to work. The current label claim for FluStop is "for the symptomatic relief of colds and flu."
###