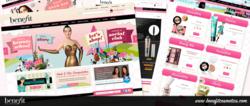 Together, Fluid and Benefit have done a great job surfacing and highlighting our most popular products, removing the number of clicks to find a product, and making the checkout process much easier and more efficient.
San Francisco, CA (PRWEB) September 08, 2011
Benefit Cosmetics, the San Francisco-based beauty brand, has undergone a complete makeover of its global website — with the help of Fluid, the digital shopping innovator. The new website captures the essence of Benefit, a cosmetic company known for its free-thinking and free-spirited approach to makeup, and for its creative packaging, irreverent names and instant beauty solutions.
Benefit's digital experience and commerce team challenged Fluid to capture and convey the brand's fun and playful spirit as part of a complete website redesign, while not losing sight of the most important objective: conversion to sale. With two new localized websites (USA and China) just launched, Benefit is now well positioned to deploy additional sites in the UK, Continental Europe, and Korea over the next 18 months.
"Benefit is known for our sense of humor and fun, and the new site really gets that across. What I really love about the design is the way our products are larger than life — they break out of the grid in surprising ways. Even our product detail pages for top-selling products feature fun background patterns that mimic components of our packaging," said Valerie Hoecke, VP of digital experience and commerce at Benefit Cosmetics. "Together, Fluid and Benefit have done a great job surfacing and highlighting our most popular products, removing the number of clicks to find a product, and making the checkout process much easier and more efficient. We believe this will result in higher conversion."
Getting the look
Benefit's global ecommerce platform was implemented by arvato, a system integrator and reseller of the Hybris multichannel commerce suite — an architecture with which Fluid has extensive experience. Benefit's strong and quirky brand language (such as iconic mannequins, thought bubbles and words of wisdom) are combined with Fluid's signature digital shopping DNA to make online shopping fun and aspirational. To mirror the consultative approach that a Benefit customer experiences at their Boutiques, Fluid collaborated with Benefit's internal team to develop a series of "Beauty School" sections that offer stunning, achievable looks and then provide step-by-step products with tips & tricks to "get the look."
Benefit is famous for its quick and easy solutions to every beauty dilemma; the new website echoes that reputation by being accessible and easy to use. Videos deliver additional product selection and application advice that reinforce Benefit's humor-infused approach, making it clear that the company never takes itself too seriously.
Jumping off the page
The new product section pages (organized by makeup, skincare, and fragrance) extend Benefit's unique design language by eschewing the traditional grid of thumbnail images in favor of big, bold product images. Clicking on these leads the shopper to product detail pages on which each product literally jumps off the page with spotlights on the packaging and other elements. A playful "Buy Me!" button is displayed everywhere to invite strong shopping conversion. Benefit's Facebook, Twitter & YouTube brand pages are also tightly integrated to connect customers with the brand's social communities.
"Our team had tremendous fun with the Benefit crew, including getting our brows arched to really understand what makes Benefit stand out from other cosmetics companies," said Kent Deverell, CEO of Fluid. "The new website, along with localized versions that are underway for Europe, is great example of what happens when a powerful brand story is combined with strong merchandising techniques. We're looking forward to seeing how Benefit's customers react — we think they'll love it."
About Benefit Cosmetics
Benefit Cosmetics is the San Francisco-based, makeup brand known for offering instant beauty solutions to every gal's peskiest beauty dilemmas. The action-packed beauty brand provides women with a fun, interactive experience that is totally unique and keeps customers coming back for more excitement. The company has swept the world with one-of-a-kind cult favorite products like Benetint, Bad Gal Lash, and Dr. Feelgood. Famous for brows, Benefit has been arching eyebrows for over 30 years at Benefit Boutiques & Brow Bars around the world, earning Benefit the title "Brow Authority." Today, Benefit is one of the fastest-growing prestige beauty brands in the business, with over 4,000 counters in 35 countries. Benefit is owned by the world leader in luxury, LVMH. http://www.benefitcosmetics.com
Fluid: Digital Shopping Innovation
Fluid creates engaging customer experiences that drive conversion, satisfaction and brand loyalty. Fluid delivers these results though custom agency engagements and the Fluid Retail Experience Platform. Founded in 1998 and with offices in San Francisco and New York, Fluid's customers range from mass-market retailers to luxury goods manufacturers, and include top brands such as: Coach, Diapers.com, Nine West, Reebok, Sears, The North Face, and Vans. For more information, visit http://www.fluid.com, and follow us on Twitter @Fluid or Facebook FluidInc.
# # #