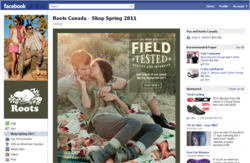 With a Fluid Fan Shop, brands can reinforce their image and extend their reach into the fastest-growing social site on the web.
San Francisco, CA (Vocus/PRWEB) March 30, 2011
Top brands in online retail are seeing dramatic growth in sales and Facebook Fans after deploying Fluid Fan Shop™. Fan Shop makes it easy to transform any Facebook Page into a rich, branded shopping experience. Retailers that use Fluid Fan Shop are seeing results that include conversion rates of up to 14 percent and dramatic increases in Facebook fan growth. In short, Fluid Fan Shop delivers the goods.
Today, Fluid is launching a complementary product — Fluid Activate — that lets retailers activate their Facebook fan base by transforming the typical Wall Post text and photos into dynamic, interactive merchandising widgets and custom animations that are purpose-built to boost engagement and drive customers to a brand's Fan Shop or e-commerce site. Business users and brand managers can easily build and post these components without the need for creative or IT involvement. In addition, Activate allows users to schedule posts in advance and simplifies Fan Page administrator management.
Fluid Fan Shop fuses brand, commerce and community by allowing shoppers to "Like" and "Share" products and fill their shopping cart while exploring rich editorial content — all without leaving Facebook. Fluid's expertise in creating differentiated shopping experiences means retailers can quickly develop a compelling Fan Shop that is unique to their brand and easy to maintain.
"Social networks—and Facebook in particular—give retailers a great opportunity to interact with shoppers in a more personal way, and to engage with them closer to where they live online," said Peter Goldie, SVP & GM of products and marketing at Fluid. "With a Fluid Fan Shop, brands can reinforce their image and extend their reach into the fastest-growing social site on the web. The Fan Shop experience is so much more effective than just popping up a copy of a catalog, and our retail customers are seeing significant fan growth as well as increased sales and traffic to their e-commerce sites."
Top retailers use Fluid Fan Shop to engage with consumers "where they live"
Roots, Canada's leading lifestyle brand, has deployed multiple Fan Shops over the last year, the first of which was used to announce a completely new collection created by iconic Canadian artist and author Douglas Coupland (Generation X). "Our Roots Facebook community has been very loyal, and for this new collection, we wanted to reward them for that – and let them share the excitement we feel about the wonderful clothing, accessories and furniture Douglas Coupland has created," said James Connell, senior director of e-commerce for Roots. "Based on the great success we've had to this point, we'll be deploying other collections and special opportunities via Fan Shop."
Rachel Roy, a division of Jones Apparel began its Fan Shop with a three-day pop-up store that offered Facebook-exclusive products. Those products sold out within just six hours and, during the first 24 hours, the brand logged 1.5 new Facebook fans each minute, increasing their total fan base by 35 percent in just one day and doubling it within the week. Deploying such a compelling, rich experience that could deliver those results was not technically difficult, according to Amy Rapawy, Rachel Roy's senior vice president of marketing: "We were impressed by how easy it was to integrate Fluid Fan Shop with our existing ecommerce platform."
To infuse its heritage into its social media presence, The Ghirardelli Chocolate Company launched an interactive San Francisco Cable Car experience as its Facebook Fan Shop landing page. Using Fluid Fan Shop, Ghirardelli has added a playful, interactive cable-car animation that lets shoppers experience its best-selling products in the context of San Francisco's best-known landmarks.
In addition, a number of leading brands have recently deployed Fluid Fan Shops including: The North Face, Kmart, White House | Black Market, Vans, Coach, and Nine West.
Fan Shop is part of Fluid Social. For more information, visit http://fluid.com/products/fluid_social
Fluid: Digital Shopping Innovation
Fluid creates engaging customer experiences that drive conversion, satisfaction and brand loyalty. Fluid delivers these results though custom agency engagements and the Fluid Retail Experience Platform. Founded in 1990 and with offices in San Francisco and New York, Fluid's customers range from mass-market retailers to luxury goods manufacturers, and include top brands such as: Coach, Diapers.com, Nine West, Reebok, Sears, The North Face, and Vans. For more information, visit http://www.fluid.com, and follow us on Twitter @Fluid or Facebook: FluidInc.
###