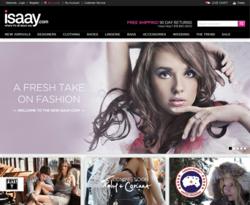 "Fluid's team brought both design and user experience expertise as well as digital shopping technology that quickly enabled us to expand the functionality and scope of Isaay.com." -Gary Shar, CEO/founder of Isaay.com.
San Francisco, California (PRWEB) October 06, 2011
Fluid Inc., the digital shopping innovator, has delivered another stunning high-fashion website, this time for Isaay.com. Isaay has developed a loyal following among women who look to Isaay for its elegantly curated selection of clothing, shoes, lingerie, bags and accessories from the world's top designers.
In keeping with Isaay's corporate tagline, "Where it's all about you," the new website includes features specifically requested by customers, such as "My Loves" (a "virtual closet" wish list), social sharing and shopper reviews, and high-resolution, 360-degree interactive viewing of every item in the store. To further showcase merchandise and upcoming trends, the new Isaay.com also includes "The Trend," a video-based blog that gives shoppers detailed tongue-in-cheek cameos of select items in everyday situations.
"Fluid's team brought both design and user experience expertise as well as digital shopping technology that quickly enabled us to expand the functionality and scope of Isaay.com," said Gary Shar, CEO and founder of Isaay.com. "What's most exciting is some of the new features and functions like our expanded Trend Area, lookbooks, outfit pages, a designer boutique, and other enhancements that will really set us apart."
From the outset, the overarching objective was to showcase all the high-fashion merchandise in the best way, even if it meant creating high-resolution photography of everything from fur booties to chiffon blouses. To keep the project on track and on budget, extensive use was made of Fluid Experience, Fluid's dynamic imaging and interactive merchandising module that typically boosts conversion by 15-40 percent by delivering rich, high-impact merchandising and mouse-over zoom. Fluid Experience provides Isaay the cost benefits of rapid implementation, flexible hosting options, quick customization, and easy maintenance.
The underlying foundation of the new Isaay website is provided by Demandware's SiteGenesis® pre-built storefront application, for which Fluid has developed a Demandware adapter that ensures seamless integration with the Demandware Commerce platform while significantly shortening development time. The Issay.com website is exceptionally responsive, despite the use of more than 25,000 original photos and product descriptions.
"The new Isaay site is a great example of what happens when a highly branded fashion retailer meets a great design agency that is working with the right platform," said Jamus Driscoll, VP of marketing for Demandware. "With our partner Fluid, Demandware looks forward to serving Isaay through their next phase of growth and beyond."
"What we know from working with high-fashion retailers is that shoppers want to truly experience the fabrics and colors of every item, and there are no short-cuts to making that a reality," said Kent Deverell, CEO of Fluid. "Isaay's team and vision, coupled with advanced imaging and digital shopping technology, meant that we were able to design and deploy an incredibly full-featured ecommerce website in under 14 weeks."
"We chose to work with Fluid of because of their work methodology and their team. Their ability to understand us creatively and functionally was very important to us — Fluid is unique in that their team works hand-in-hand with you, and acts in such a manner it's as if they owned the site themselves," added Isaay.com's Shar. "We regularly receive compliments from vendors and customers about the design and functionality of our site."
About Isaay.com
Isaay.com offers style-conscious women a personalized high-fashion online shopping experience. Featuring thousands of items from the world's best designers, Isaay.com emphasizes great customer service, free shipping both ways, a 90-day return policy, and makes it "All About You" by offering curated collections of the top designer brands and style guides that provide advice on how to wear great fashion. For more information, visit http://www.isaay.com.
Fluid: Digital Shopping Innovation
Fluid creates engaging customer experiences that drive conversion, satisfaction and brand loyalty. Fluid delivers these results though custom agency engagements and the Fluid Retail Experience Platform. Founded in 1998 and with offices in San Francisco and New York, Fluid's customers range from mass-market retailers to luxury goods manufacturers, and include top brands such as: Coach, Diapers.com, Nine West, Reebok, Sears, The North Face, and Vans. For more information, visit http://www.fluid.com, and follow us on Twitter @Fluid or Facebook.com/FluidInc.
###