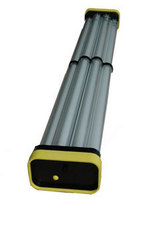 This is an industrial grade, high powered fluorescent extension light that can be placed close the work area without getting in the way or creating additional heat
Kemp, TX (Vocus) October 15, 2009
In ongoing effort to meets the needs of operators in the maintenance, repair and overhaul marketplace, Larson Electronics' magnalight.com offers the WAL-PFL-4-120-10 portable fluorescent flood light.
With 4 integrated 32 watt, 4 foot fluorescent bulbs, this portable fluorescent work area light provides true color light in close proximity to the work item. When laid on its back, the fluorescent work light can be laid flat or at a 45 degree angle. A nylon strap attached to the back of the unit enables the operator to hang the light vertically or horizontally. The lightweight unit has a feed through power feature which enables operators to daisy chain multiple lights together or use the included outlet for other power tools. This feature is ideal in areas where limited power outlets are available. With each bulb encapsulated in an isolated polycarbonate tube and the entire unit bookended by rubber covers endplates, the WAL-PFL-4-120-10 fluorescent work light is rugged enough to be dropped, kick or stepped on without loss of functionality. A booted on/off switch and booted power outlet protects the fluorescent work light from dirt and moisture.
"This is an industrial grade, high powered fluorescent extension light that can be placed close the work area without getting in the way or creating additional heat," said Rob Bresnahan. "For operators in the aerospace, MRO and automotive related repair industries, this is particularly useful, because multiple units can be daisy chained together to illuminate a large area, even when the number of power outlets is very limited. This reduces cord clutter and the hazards associate with tripping, cord damage, etc. Unlike high powered incandescent lights, fluorescent flood lights draw much less power, offer true color lighting and generate very little heat. Finally, the bulbs last many times longer, so operators aren't taking time away from the project to change bulbs. This portable fluorescent flood light is lightweight, durable and easy to clean."
Larson Electronics offers a wide range of portable flood lights for commercial, industrial and military applications. Ranging from high powered metal halide tower lights to cart mounted fluorescents lights, magnalight.com is a one stop source for high and low voltage work area flood lighting. You can learn more about Larson Electronics' spotlights and flood lights at magnalight.com or 1-800-369-6671 (1-214-616-6180 international).
###