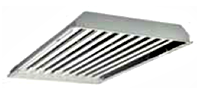 Over the past few years, we've seen rapid growth in lifespans of both LED and fluorescent technology.
Yorba Linda, CA (PRWEB) May 29, 2013
Energy-efficient lighting manufacturer Precision-Paragon [P2] announced today that advances in fluorescent lighting technology have allowed it to offer fluorescent lighting fixtures using lamps with manufacturer rated lifespans of up to 80,000 hours.
"Over the past few years, we've seen rapid growth in lifespans of both LED and fluorescent technology," said Lou Preston, [P2]'s national marketing director. "At the same time as LED manufacturers have developed light sources with increased life ratings, fluorescent lamp manufacturers have been developing and delivering long-life fluorescent technologies."
Just a few years ago, new LED high-bay fixtures were offering lifespans of 50,000 hours or more, while fluorescent lamps were rated for between 30,000 and 40,000 hours.
Today, new fluorescent lamps can deliver much longer lifespans. Lamps like GE's F54T5/XL/830/ECO, a 54-watt T5 fluorescent, come with a 60,000-hour rated life.
Sylvania recently released an Extended Performance Extended Life line of T8 fluorescent lamps, which offer a rated lifespan of up to 84,000 hours, when operated on a program start ballast.
"Just a few years ago, it was revolutionary to be making LED high-bays with 50,000 plus hour rated life," said Preston. "Today, fluorescent technology has advanced far enough that we can ship high-bay fluorescent fixtures with lamps that have similar or longer rated life spans."
These longer lifespans also come with impressive energy efficiency. While many variables affect the efficiency of a specific fixture, these long-life fluorescent lamps are available in a variety of customized indoor and outdoor lighting fixtures from [P2] that deliver efficiencies above 90 lumens per watt.
It's true that a variety of conditions affect the actual lifespan of a lamp in comparison to its rated lifespan, but the fact that major fluorescent lamp manufacturers have more than doubled the rated lifespan of their products demonstrates the advantages in the technology.
Still, [P2] cautions that it's important to consider all the available lighting technologies when planning a retrofit.
"There's no one-size-fits-all in lighting retrofits," explains Preston. "A 60,000 or 80,000-hour rated fluorescent lamp might be the best option for one facility, a similar LED-based fixture might be the best option for another retrofit. That's the reason we manufacture both types of fixtures."
About Precision-Paragon [P2]: For over 20 years, [P2] has made high-quality, indoor-and-outdoor light fixtures for a wide range of applications in retail, commercial and industrial spaces. [P2]'s energy-efficient lighting drastically cuts energy consumption, creating big cost savings and significant environmental benefits.
Over the last two decades, [P2] has earned a reputation for going the extra distance in customer support by producing high quality, American-made products. [P2] products are manufactured in Gainesville, Florida., Hudson, Wisconsin., and at the company's headquarters in Yorba Linda, California.
Web site: http://www.p-2.com