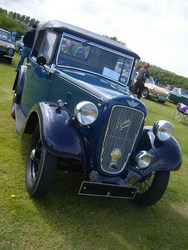 We are delighted to have been invited to bring the show to Beaulieu this year
(PRWeb UK) July 15, 2009
'Welcome to Beaulieu for 2009'
Classic car enthusiasts are celebrating after the National Motor Museum at Beaulieu has stepped in and offered to host one of the UK's most popular Classic Car and Bike Shows in its magnificent grounds on Sunday August 2nd 2009.
Originally called the Wroughton Classic, the show has become one of the fastest-growing events in the classic calendar. It had been in danger of cancellation after both the Wroughton venue and then a late change to nearby Liddington became unavailable to the organisers.
Now with classic car insurance specialists Adrian Flux as new headline sponsors the Adrian Flux Classic Car & Bike Show is set to retain its reputation as the leading southern-region gathering for historic and classic vehicles.
"We are delighted to have been invited to bring the show to Beaulieu this year," said organiser Greg Dunningham. "When we lost the previous venues at such short notice we were heartened by the number of people telling us that they really hoped the show continued this year. But we were especially honoured that - out of the blue - the National Motor Museum invited us to keep alive the classic tradition."
Beaulieu Events Manager Judith Maddox said: "We are delighted to be able to offer a new venue for the Adrian Flux Classic, to enable the show to take place this year and look forward to a great day with lots of classic cars and bikes. With Beaulieu's proven track record for holding major motoring events it is the ideal venue.
"Both the exhibitors and visitors will be able to enjoy not only the Adrian Flux Classic but also all the features within the Beaulieu attraction, including the National Motor Museum and the newly opened World of Top Gear."
As in previous shows, the Adrian Flux Classic will be bringing an amazing collection of classic cars and bikes from across the country with club stands, autojumble, trade and craft stands. And also as in previous years, the family atmosphere means younger visitors will be kept entertained too.
There will be a variety of competitions, grand prizes and trophies, all leading up to the coveted Adrian Flux Car of the Year award for the best car in show, with a grand prize including free insurance for a year, up to a value of £500.
Tickets cost £16.75 per adult (reduced prices for children, seniors and families) and can be purchased on the day or in advance by visiting http://www.adrianfluxclassic.co.uk. Visitors in classic vehicles (including all cars and bikes over 20 years old) can get in for £10 per person. The admission price covers entrance to the Show, National Motor Museum, Palace House and Gardens, Beaulieu Abbey and World of Top Gear, plus various rides and drives
This regenerated Adrian Flux Classic Car and Bike Show is being run in conjunction with Adrian Flux Insurance Services, Classic Car Weekly and Classic Bike Magazine. The show will feature a huge variety of motors - from veteran 'old crocks' to rare examples of legendary racing cars and concours-quality cars, vans, motorbikes and other old, traditional and unusual vehicles.
"It will be a grand day out, not just for enthusiasts but for all the family," says Greg Dunningham.
Gerry Bucke, commercial director of Adrian Flux Insurance Services, says he is delighted the show is to continue. "For us, it's a valuable chance to get feedback on what classic vehicle owners really need from their insurance. And we'll be able to give them quotes - then and there at the show - so they can compare with their existing policies or get instant cover."
For more information on the 2009 Adrian Flux Classic Car Show, to buy tickets, to enter your classic car or find out how your club can attend, call 0844 371 8341 or visit http://www.adrianfluxclassic.co.uk.
For details on Adrian Flux Insurance Services call the Adrian Flux quote line on 0800 505 3000, email the company at quotes@adrianflux.co.uk or see the Flux homepage on http://www.adrianflux.co.uk
Copy ends
Adrian Flux Classic Car Show moves to Beaulieu for 2009.doc - Jul-09
PRESS ENQUIRIES:
Alison Haynes or Toni Turner of The Publicity Works, Tel: 01263 761000
Email: adrianflux(at)publicityworks.biz
Greg & Jo Dunningham of Adrian Flux Classic Car Show, Tel: 07747 804487
Email: wroughtonclassic(at)tiscali.co.uk
Gerry Bucke of Adrian Flux Insurance Services: 0800 505 3000
###