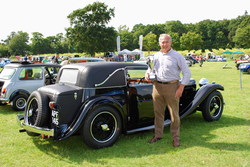 It turned out to be a big success for us and a great day for classic car and bike enthusiasts
(PRWeb UK) August 14, 2009
A stunning, gleaming black Jaguar SS1 was the top star of the day at the inaugural Adrian Flux Classic Car and Bike Show on Sunday 2nd August at the National Motor Museum, Beaulieu.
The show, known in previous years as the Wroughton Classic and held near Swindon, moved this year to Beaulieu as an emergency measure when its planned venue became unavailable at the last moment. It was run in conjunction with Adrian Flux Insurance Services, Classic Car Weekly and Classic Bike Magazine and featured a wide variety of fascinating vehicles - from veteran 'old crocks' to rare examples of legendary racing cars and concours-quality cars, vans, motorbikes and other old, traditional and unusual vehicles.
"It turned out to be a big success for us and a great day for classic car and bike enthusiasts," said organiser Greg Dunningham. "The sun shone the whole day, and we were delighted and so pleased that the National Motor Museum opened its grounds to the owners and lovers of classic cars who attended."
In the final concours, the 1933-edition Jaguar SS1 won the Adrian Flux 'Car of the Show' award and an insurance voucher worth up to £500 for proud owner Irwin Jewell. Described by the judges as 'awesome, a remarkable triumph of unspoiled restoration', the Jaguar drew admiring viewers all day long, before it had even been shortlisted in the final judging.
Runners-up for the awards were a superb 1960s special anniversary model Mini in mint condition, a cutely stylish 1938 Fiat Topolino Siata Special, and a roaring Triumph TR5 sports car from the 1970s.
Among the bikes attending was the remarkable and extremely rare 1920s-era 'feet-forward' Ner-A-Car. Other attractions included children's favourite Stan the Standard Flying Eight (and his friend and driver 'Topper'), a delightful pair of original 1950s bubble cars, and Extreme Wheelie, the wheelie trainer that allows ordinary bikers to experience what it's like to rear up almost vertically on a powerful motorbike without risking life or limb.
The award for 'Best Car Club' attending went to the Panhard et Levassor club. By the very rarity of their vehicles their club is inevitably small and spread out over the country. Nevertheless, 10 of the rare cars came to the show, including one strange 'half-Panhard' in the process of being converted into a camping trailer.
In a special 'sweetener' prize draw, one lucky visitor won £100 in cash from Adrian Flux, while the famous Flux Babes were on hand, dressed up in 1950s-period polka-dot outfits.
The one-day show was a remarkable exercise in snatching victory from the jaws of defeat, and keeping alive the idea of a major Southern classic car show. Last year's event, at Wroughton, near Swindon, attracted over 2,500 cars and a staggering 26,000 visitors spread over two days.
"We were forced to switch from Wroughton at short notice in June, and chose another location," said Greg Dunningham. "But our replacement venue, a major hotel and conference centre, was abruptly closed by administrators, cutting us adrift only three weeks before the show date. When the National Motor Museum heard, they couldn't have been more kind in generously giving us space. We are already planning next year's show for Wiltshire next August."
"We were delighted with the results of the first Adrian Flux Classic," said Gerry Bucke of Adrian Flux. "You could say that our natural customer is someone who has unusual insurance needs. So we love to see and support classic cars and bikes - the more the merrier and the better looked-after the better!"
For details on Adrian Flux Insurance Services call the Flux quote line on 0800 505 3000, email the company at quotes@adrianflux.co.uk or see the Flux homepage on http://www.adrianflux.co.uk
Adrian Flux Classic 2009 report.doc - Aug-09
PRESS ENQUIRIES:
Alison Haynes or Toni Turner of The Publicity Works, Tel: 01263 761000
Greg & Jo Dunningham of Adrian Flux Classic Car Show, Tel: 07747 804487
Gerry Bucke of Adrian Flux Insurance Services: 0800 505 3000
###