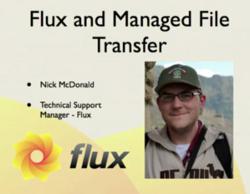 Flux excels in orchestrating data and file workflows in a secure manner with visibility for management.
Las Vegas, NV (PRWEB) July 18, 2011
Nick McDonald, Technical Support Manager for Flux, has produced a three minute video highlighting the benefits and capabilities of Flux workload automation and managed file transfer. Key among them is a traditional workflow model that is easily linked to file transfers, web service calls, other processes, or notifications.
The three minute video, "Flux and Managed File Transfer," is available online:
Managed file transfer is holistically concerned with an organization's critical file transfers, handling them with your business needs and service level agreements in mind.
Flux excels in orchestrating data and file workflows in a secure manner with visibility for management. Extensive FTP, Secure FTP (SFTP), and FTP-SSL (FTPS) support is offered along with several stand-out benefits:

End-to-end security and control
Reporting and audit trails
Automation of file-related tasks and workflows
Monitoring and metrics
File Transfer Consulting President Jonathan Lampe states, "Managed file technology is essentially middleware focused on the 80% of business-to-business data exchange that travels as documents, images, batched transactions, and other files. As that traffic continues to move to the cloud, managed file transfer software like Flux that can natively interact with and run in both on-premises and cloud environments will be essential."
About Flux
Flux is a software company dedicated to advancing workload automation and managed file transfer by delivering performance, reliability, ease-of-use, and unyielding accessible customer support. First released in 2000, Flux has grown into a vital part of IT operations around the world with hundreds of customers in 35 countries.
With an emphasis on the orchestration of enterprise job scheduling, managed file transfer, Web Services (SOA), and Java technology support, Flux delivers it all with a single point of control through a web browser. Intuitive modern interfaces bring it all together in a single browser window.
Across platforms and many industry sectors, Flux has simplified tasks surrounding workload scheduling ensuring that critical transactions are processed on time. Whether Flux is used as a powerful stand-alone workload automation solution or embedded into a larger application pushing tens of thousands of jobs, Flux solutions bring solid business value with efficiencies, precise control, and affordability.
Privately held, offices are located in Las Vegas, Buenos Aires, and Montana, which collectively provide effective technical support and sales services to Flux's global customer base.
To learn more about Flux:
Visit Flux website: http://fluxcorp.com
Request a demo
Download data sheet or software
Talk with an engineer
# # #