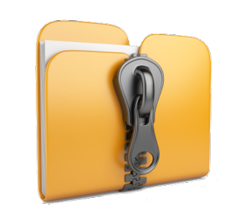 Flux accommodates native support for ZIP archives, making it even easier to automate common file processing tasks.
Las Vegas, NV (PRWEB) July 30, 2012
Today, Flux released their latest white paper, Processing ZIP Archives with Flux. Eric Rich, Flux's Director of Development, demonstrates the benefits of Flux's superior functionality deployed in their workload automation software specifically designed to manage core business processes.
Flux's upcoming major software release, 8.0, will be available in a matter of weeks and accommodates native support for ZIP archives, making it even easier to automate common file processing tasks through their simple point-and-click interface.
Daily tasks for many enterprises include processes such as reporting, file transfers, and Extract Transform Load (ETL). Part of these processes often includes the handling of ZIP archives within a workflow. Managing ad-hoc scripts in a distributed environment can be cumbersome. With an Operations Console (dashboard) and visual workflows, monitoring and administering automated tasks across multiple servers is simplified with Flux.
In this brief white paper, Mr. Rich reviews the typical file processing workflow, management of workflows, and illustrates ease-of-use with Flux's visual workflow model. Visual workflow aids in the overall understanding of an automated workflow for IT professionals and devops teams. Design, maintenance, and modifications are easily handled.
Flux was recently praised as a Strong Value in Enterprise Management Associates' (EMA) Workload Automation Report. Part of Flux's success is due to their engineering team's ingeniously simple approach to managing file processing workflows.
Read the article, Processing ZIP Archives with Flux, at:
flux.ly/resources/processing-zip-archives-with-flux
About Flux
Flux is an enterprise software company dedicated to advancing workload automation and managed file transfer. First released in 2000, Flux has grown into a vital part of IT operations around the world with hundreds of customers in 36 countries.
With an emphasis on sophisticated job scheduling, managed file transfer, Web Services (SOA), and Java technology support, Flux delivers it all with a single point of control through a web browser. Intuitive modern interfaces bring it all together in a single browser window.
Across platforms and many industry sectors, Flux has simplified tasks surrounding workload scheduling ensuring that critical transactions are processed on time. Whether Flux is used as a powerful stand-alone workload automation solution or embedded into a larger application pushing tens of thousands of jobs, Flux solutions bring solid business value with efficiencies, precise control, and affordability.
Built on the powerful technology of Flux Workload Automation, Flux offers an additional free cloud-based workflow service to orchestrate workloads and manage file transfers called Floify.com.
Privately held, Flux offices are located in Las Vegas, Buenos Aires, Hawaii, and Montana, all of which provide effective technical support and sales services to Flux's global customer base.
To learn more about Flux, visit flux.ly
To learn more about Floify, visit Floify.com