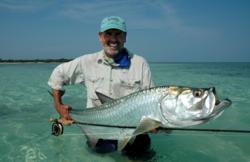 Get the satisfaction of supporting a very entertaining program which in turn promotes the sport of fly fishing.
Missoula, MT (PRWEB) July 26, 2011
Grizzly Hackle's Wild On The Fly television series, which premiered in January to very high ratings on the Outdoor Channel, has effectively re-invented the stale Saturday morning fly fishing show into an exciting and relevant production. The show proved so vibrant and interesting that even non-anglers loved to watch.
Wild On The Fly founder Joseph Daniel recently signed for a second season, which will begin airing on the Outdoor Channel in January 2012.
"We are once again attempting to raise the bar for what viewers should expect out of quality outdoor broadcasting, both content-wise and technologically," explained Daniel.
"We want each of our episodes to be at the level of the finest documentaries one can see on a premium cable channel. To do that requires more support than the outdoor market can generally provide so we're going to our viewers and asking them to become patrons of the program in return for some great rewards."
Utilizing a popular social fundraising platform called Kickstarter, Wild On The Fly hopes to raise $26,000 in additional support to add "cinematic polish" to each of its 13 original episodes for 2012. Fans of great fishing films and videos can go to the project page on Kickstarter at http://www.kickstarter.com/projects/880768987/wild-on-the-fly-fly-fishing-travel-tv-series to see vignettes of the first season and pledge anywhere from $5 to $10,000 in support of the 2012 series.
Rewards for pledges include the following:

A sassy Wildfly bumper sticker
The perfect fishing cap
DVD sets of the show series
Custom fly fishing gear packages
Personal and advertiser involvement with the show
You could even be an Executive Producer!
The fundraiser only lasts for 60 days and must be fully realized for funds to be distributed.
"This is a fun and creative way to finance worthwhile projects," confirms Daniel. "You get the added satisfaction of supporting a very entertaining program which in turn promotes the sport of fly fishing and functions as a voice for environmental and cultural awareness."
Wild On The Fly attracted several hundred-thousand viewers per episode in its first season and quickly became popular. Shows were an irresistible blend of travel, food, culture, and genuine, cutting-edge angling. In its first season Wild On The Fly traversed the globe from Alaska to Argentina, Mexico to Mongolia.
"It was a piscatorial production of epic scope!" recalls Daniel. "We shot over 200 hours of video, took 83 flights and logged more than 90,000 miles traveling to seven countries and four states. We experienced six broken rods, four lost bags, two ruined cameras, countless hours of editing, and not one fake fishing scene!"
###