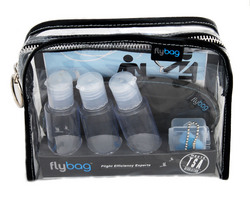 We are thrilled to be able to contribute to such a committed group who represent our shared values— safety, efficiency, and passenger empowerment
Napa, CA (PRWEB) October 09, 2012
Flybags—maker of the eponymous, TSA-compliant toiletry kit, the Flybag™ — is giving back to airline travelers, as well as the largest air passenger advocacy group, FlyersRights.org.
For the month of October, those who visit Flybags.com and enter promo code ISTILLFLY will receive $1 off each Flybag™ purchase, which will be matched by a $1 contribution to FlyersRights.org.
Chris Cutler, Chief Efficiency Operator of Napa Valley–based Flybags says, "We are thrilled to be able to contribute to such a committed group who represent our shared values— safety, efficiency, and passenger empowerment."
Flybags jumped into action when the TSA determined that all liquids, gels, and aerosols must be placed in a single, quart-size, zip-top, clear plastic bag. In 2008, Cutler conceived of the product and started the company with a group of friends—commiserates in business and leisure travel—when too many confiscated colognes and shredded Ziploc™ bags had them begging for a solution to the dilemma of liquid carry-ons. Their solution is the Flybag™.
Kate Hanni, founder of FlyersRIghts.org, and spokesperson for the airline passenger community says, "No other company we have seen has the quality, sense of humor, and dedication to our community as Flybags. We feel lucky to have been selected as a beneficiary of their goodwill."
With more than 50,000 members, FlyersRights.org is the largest non-profit consumer organization in the United States representing airline passengers. FlyersRights.org was formed in 2006, when Napa, CA, realtor Kate Hanni was stranded with her husband and two children for nine hours on the tarmac in Austin, TX. Hanni organized other passengers to pass the long-stalled Airline Passengers' Bill of Rights. The bill, which had been stalled in Congress since at least 1999, allows passengers the option of getting off delayed planes after three hours on the ground, and requires airlines to provide adequate food, water, temperature controls, ventilation, and working toilets to accommodate a three-hour delay.
Promotion valid through October 31, 2012, by visiting flybags.com and entering code ISTILLFLY at checkout.