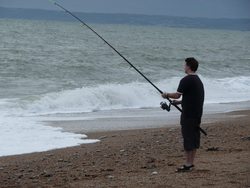 fishing is the only thing is keeping me sane at the moment
London, England (PRWEB) October 27, 2008
What sounded like an unrealistic claim at first, in fact held some truth depending on the view point taken. When somebody thinks about the credit crunch, the focus is always on money. The site owner Phil Wheatley and his team at the Fishing Guild certainly didn't claim that fishing would inflate a person's bank balance; but there is one thing that is far more important than money during a financial crisis.
Launched in 2008, the Fishing Guild quickly became known as the place for fishers the world over to unite and learn more about their favorite topic. What set this site aside from the rest was the facility for sharing your experiences, tips and photos with others. Arguably the best place to be when you are not actually out fishing for real.
However, to Phil's surprise, as the world headed firmly into a global financial meltdown, the emails he started receiving seemed to revolve more around the subject of their situation in the current economic climate. What was common between these people was the fact that their hobby had become their sanctuary, one member saying "fishing is the only thing is keeping me sane at the moment", having just bought one of our fly fishing reels.
It was evident that the site was going to be more than just a fishing resource, but a community of people that not only shared their passion for angling, but a place where people could go and enjoy the mutual respect and camaraderie you would expect from a group of like minded people in a club environment.
So how was fishing really able to help during Credit Crunch? The important aspect previously mentioned is not money, but "Health". It is now widely accepted that the cause of many illnesses is stress, and it doesn't get much more stress relieving than sitting on the bank of a gentle stream with the sound of running water transporting your fishing line down the river, especially when fly fishing.
Not only is the relaxing setting beneficial to your health, but as any Angler will testify, when the bite of the fish suddenly hits confirmed by the bending of the rod, your entire attention focuses on landing that fish which takes the mind firmly away from any money worries one might have.
On the cost side of things, once somebody acquires all their fishing gear, angling can be done for little or no money at all, making it an ideal activity in this trying period. Depending on where somebody fishes, in the sea for example, the catch can be taken home and eaten for free.
If for example, when fishing for Mackerel, dozens can be caught in one session which could be sold to local fishmongers, the rest consumed. The beauty of Mackerel fishing is live bait is not required; instead utilizing feathers as a lure which can be re-used over an over again. So not only can fishing be done for free, it can improve health and put some money in the pocket too. If you prefer the river environment, then once you own one of the many fly fishing rods available to suit your style, you can use artificial flies (fly ties) to catch fish at a minimal cost.
Phil Wheatley has an ambitious vision of bringing all fishing enthusiasts together, recognizing that all those who fish instinctively have an understanding and a common ground between them. Through good times and bad, people will always have a place where they can hang out and be amongst like minded people on this site. Known as the "Fishing Guild" - it is more than just a club, it's a Brotherhood, a community and meeting point for all those who share this fascinating past time.
Contact Phil Wheatley
Fishing Guild
Phone +447947 475315
http://www.fishingguild.com
###