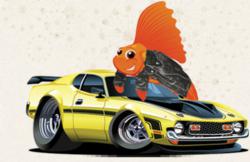 I remember watching the Jetsons as a kid, and wondering if I would be alive to see the day when the world started using flying cars as part of mainstream use.
New York, NY (PRWEB) April 03, 2012
RoadFish.com men's lifestyle and finance magazine was in awe today upon learning of the anticipated presence of America's first flying car, the Terrafugia Transition, which will appear at the New York International Auto Show later this week. RoadFish.com marveled that the US has reached "Jetson flying-car status," and is bowled over by Terrafugia's luxury aircraft that also doubles as a car.
Jason Paur of Wired.com reports that until very recently, the Massachusetts based company Terrafugia and its self-proclaimed "roadable aircraft," the Transition, has mainly stuck within the aviation arena although it has been around for several years. CEO and Terrafugia co-founder, Carl Dietrich, is quoted as saying, "We've noticed in our order backlog there are actually a fair number of people who are not currently pilots who are putting deposits down to order a Transition." Thus, the company is exploring a market for the vehicle beyond the aviation spectrum.
Terrafugia's website is devoted to pitching the "flying car" and includes lengthy details about the hybrid vehicle. In its description of the practicality of the Transition, it states, "Every pilot faces uncertain weather, rising costs, and ground transportation hassles on each end of the flight. The Transition combines the unique convenience of being able to fold its wings with the ability to drive on any surface road in a modern personal airplane platform. Stowing the wings for road use and deploying them for flight at the airport is activated from inside the cockpit. This unique functionality addresses head-on the issues faced by today's Private and Sport Pilots."
RoadFish.com's Senior staff writer is quoted as saying, "I remember watching the Jetsons as a kid, and wondering if I would be alive to see the day when the world started using flying cars as part of mainstream use. I actually didn't think I would be around for this… it's very surreal and amazing at once. It makes me wonder, of course, what's next?"
Several convenience features of the Transition listed on Terrafugia's site include rear wheel drive, auto-motive style entry and exit, automated electric folding wings, no trailer or hangar needed, and enough space in the cargo area to carry golf clubs. Terrafugia boasts safety features such as full vehicle parachute, automotive crash safety features, and modern glass avionics.
The price tag on the Transition is anticipated to be $279,000, according to Terrafugia's website, and a refundable deposit for the flying car is $10,000. The site even explains that one could "become a Sport Pilot in as little as 20 hours of flight time in a Transition-specific course."
RoadFish.com marveled over the look of the car/plane hybrid, and its Senior staff writer claimed, "I think now I've seen everything. This thing is truly remarkable. I am incredibly curious to see the response that the Transition gets at the New York Auto Show, and if we'll see a huge expanse in the market for this flying car. I wonder how long it'll be before they're really mainstream, like I'm driving down the street, and I pull up next to a Transition?"
The New York International Auto Show got its start in 1900 with the claim to fame as North America's first automotive exhibition, and has been an annual occurrence every since. The NYIAS runs this year from April 6th through April 15th at the Jacob Javits Center in New York City. General admission for adults are $15 per ticket, $5 for children under 12.
About RoadFish
RoadFish.com is an online men's lifestyle and finance magazine targeted toward men in their 30's and 40's that have already attained a moderate level of success in life, and are striving toward more. It goes over current events of interest to this group, such things as exciting adventures, making money, consumer interests, hot chicks, and satirical political adventures, as well as ways to make more and save more money. It is a publication owned by Purpose Inc.
###