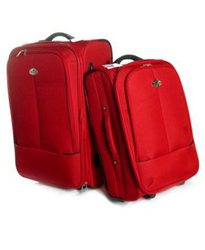 (PRWeb UK) September 15, 2010
FLYLIGHT Luggage is a new product that has been designed to take the guesswork out of travelling on budget airlines with self weighing suitcases that are designed to allow travellers to know what their suitcase weighs, quickly and accurately.
Travelling on a budget airline has been made increasingly stressful in recent times as airlines have first introduced a fee for checked-on luggage, and then limited the amount of weight allowance passengers can have in their bags. The financial penalties for exceeding this specified luggage allowance are huge and can easily double the amount that was originally paid for the flight!
Travel is stressful enough without having to worry about luggage allowance, or wishing that the extra pair of shoes at home were in the suitcase when the bag is considerably under the allowed weight. Help is now at hand in the form of self weigh luggage. No more guesswork. Now passenger luggage can speak up for itself and let users know how much more can be packed in, or removed from, their case.
The recently launched FLYLIGHT Luggage has the solution to all these problems. The self weighing luggage isn't just stylish, it's also smart. Passengers can pack their case; pull on the handle and the LCD screen on their FLYLIGHT case will tell them exactly how much it weighs! It really is that simple. What's even better is that because the weighing mechanism is within the actual suitcase, passengers won't just be sure that their luggage is within the guidelines on outbound flights, but also upon return.
In a choice of colours, FLYLIGHT Luggage will help keep the savings passengers originally made on flights by ensuring they stay within the stated weight guidelines.
Ordering with FLYLIGHT Luggage's online shopping cart couldn't be easier, and with FedEx delivery a new bag can be with purchasers in next to no time at all.
The website, http://www.FLYLIGHTLuggage.co.uk contains more information, including a video demonstration on how FLYLIGHT luggage works.
###