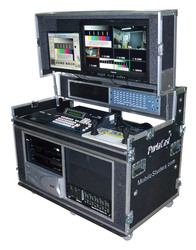 "The PortaCast® Mobile Studio answered a need for a portable live multicam production system that could be easily transported and operated by a single person to produce broadcast quality HD/SD", said Mobile Studios President, Rich Rubin.
Boca Raton, Florida (PRWEB) December 1, 2009
Mobile Studios, Inc., leading systems integrator and manufacturer of the PortaCast® line of modular "flip-top" flypacks (patent pending), has delivered three portable HD video production systems and camera packages to the U.S. House of Representatives Recording Studio (HRS). The systems will be used to record committee room hearings and deliver live feeds to C-SPAN for broadcast. The systems are designed for rapid deployment between House committee rooms and require less than 15 minutes for set-up from roll-in to production.
Each system includes a Director's Console for production control along with a portable accessory case for transporting cameras, cables, throw-down fiber interfaces and tripods. The Director's Console is equipped with Panasonic's AV-HS400A multi-format switcher and AW-RP655 robotic camera controller, character generator, audio mixer, digital video recorder and a Telecast Fiber interface for up to five cameras. A 26" Panasonic BT-LH2600 LCD installed in the PortaCast "flip-top" cover displays all camera previews and program output. Additionally, a 19" SVGA monitor is installed alongside for character generator operation. Each of the three systems includes four Panasonic AW-HE870N HD box cameras with AW-PH360 remote control heads on Vinten tripods.
Four robotic cameras are connected to each console via tactical fiber and small "throw down" fiber interfaces installed in aluminum brief-cases positioned below each tripod. The throw-downs, custom built by Mobile Studios, provides the link for HD/SD-SDI video, camera control and program audio between cameras and console. Program video and audio is fed to the HRS main control room via an Evertz transmitter/receiver pair to feed C-SPAN.
According to Mobile Studios President, Rich Rubin, "We worked very closely with the House Recording Studio engineering staff to design a compact/portable system that would provide all the functionality they needed for producing broadcast quality HD/SD and could be easily moved, set-up and operated by a single staff member. "Added Rubin, "The close collaboration we enjoyed from start to finish contributed much to the success of this project."
The PortaCast Mobile Studio systems will be used by the House Recording Studio to help broadcast up to 1,000 hearings per year and up to 50 hours per day in combined usage.
About Mobile Studios, Inc.
Headquartered in Boca Raton, Florida, Mobile Studios is recognized as a leading systems integrator and provider of broadcast quality portable production systems. The company designs and delivers HD and SD solutions for broadcasters, production companies, corporations, houses of worship, educational institutions and government agencies. For more information: http://www.MobileStudios.com or call 877-777-7147.
PortaCast ® is a registered U.S trademark of Mobile Studios, Inc.
###