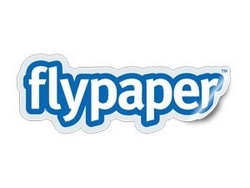 Flypaper is a powerful web-based presentation solution for our clients
PHOENIX (PRWEB) September 18, 2008
Certified Flypaper Producers are trained professionals in the fields of design, Web and multimedia production, and are experts in using the Flypaper platform. They offer design and creative assistance to businesses of all sizes that need customized presentations and other interactive content. For more advanced services, certified Flypaper Business Partners assist companies in setting up Flypaper-based projects to create, manage and track content for sales, marketing and training.
"Many of our users enjoy building sales, marketing and other professional content with Flypaper, while others simply don't have the time to do it," says Pat Sullivan, CEO of Flypaper. "Companies will now have certified partners to work with that can help maximize the value of Flypaper – and help create rich, interactive content for much less cost and time compared to custom Flash development."
Flypaper has currently signed on 17 certified Producers including The GMarie Group, Designers Café, OnShore Technology and TruConcepts.
"Flypaper is a powerful web-based presentation solution for our clients," said Mary Krause, CEO of Designers Café. "This is a very easy application to learn and use, and allows us to give customers the Flash content they want much faster, and in a format they can edit and reuse themselves. We are pleased with the results we're seeing with Flypaper projects and look forward to generating more businesses through our partnership."
Flypaper Producers offer businesses of all sizes a variety of services to fit any kind of communications project, including:
Branded Templates -- Flypaper Producers create custom page Templates – with colors, logos, graphics, navigation and other components – designed exclusively to fit the clients' brand and identity. Clients can easily edit and reuse the Flash-quality Templates, allowing them to share custom branded content across departments or entire organizations.
Custom Presentations -- Flypaper Producers develop custom presentations using the Flypaper application so clients can tell their Story in a more engaging and persuasive way. The result is an interactive, Flash presentation that anyone can modify using Flypaper. Flypaper presentations can be delivered live, added to a corporate Web site, or posted anywhere on the Web.
Sales and Marketing Content Creation -- Flypaper Producers with expertise in advertising and interactive media assist clients in creating high-impact, engaging Stories with dynamic Flash content for various audiences. Users can then use Flypaper to share Stories with prospects and leads, and track results with the Flypaper analytics dashboard.
Flypaper is a rich media application that allows subscribers to easily create, edit and share interactive presentations and other content for live or Web-based delivery. Professional features included in the subscription allow subscribers to track viewer statistics and capture data, host content on any Web site, and store up to 1 GB of content. Flypaper is available for $195 per year with a 30-day free trial to start.
About Flypaper Studio, Inc.
Flypaper Studio, Inc. is a Phoenix-based technology innovator focused on revolutionizing the way people sell and communicate on the Web. Flypaper allows users to produce high-impact presentations and other Web content that rivals the interactivity and quality of custom Flash development, but without requiring design or programming skills. Users can download the fully functional trial version from the Web site, and access an endless variety of professionally designed, Web-ready templates and sample content that can be quickly customized and immediately published to any Web site - including YouTube, Facebook and others. To learn more visit http://www.flypaper.com.