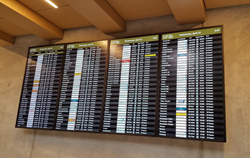 Flyte Systems is proud to be a launch partner that provides customized FlyteBoards with real-time flight information for Toronto Union Pearson Express Rail to and from Pearson International Airport.
Chicago, IL (PRWEB) June 16, 2015
Flyte Systems announced it was selected as a launch partner to provide customized FlyteBoards with real-time airline flight information for Toronto Pearson International Airport at Toronto's Union Pearson Express Station. Flyte Systems will also deliver English and Canadian French flight information content for displays mounted onboard airport-bound trains, and synchronized with mobile and desktop websites. The official opening of the rail line serving guests traveling to the Toronto 2015 Pan Am Games is June 6.
Flyte Systems is the leading provider of cost effective airport travel information displays and digital signage content for the hospitality, corporate training centers, digital signage, convention center industries and related businesses. Click here to request information on Flyte Systems' airport travel and guest information services.
Kent Toney, Flyte Systems' president said, "Flyte Systems is proud to be a launch partner that provides customized FlyteBoards with real-time flight information for Toronto Union Pearson Express Rail to and from Pearson International Airport. Our multi-lingual displays will also aid travelers at Union Station in Toronto." Flyte Systems worked with Union Pearson Express throughout the run-up to Toronto's Pan Am Games. It designed, customized and implemented FlyteBoard airport schedule displays with airline logos, colors and specialized page formats. Flyte Systems provides full turnkey solutions and display-ready content that optimizes client resources.
"FlyteBoard offers Union Pearson Express the opportunity to support travelers throughout Toronto," Toney said. "Our displays give travelers real-time 'hands-free' schedule confirmation when leaving the Pan Am Games for the airport. FlyteBoard displays airline flight information clearly to provide superior customer service to Union Pearson Express customers. The confidence Flyte Systems delivers eases customers' travel experiences and creates a pleasurable trip."
Flyte Systems provides low-cost, real-time flight information
Flyte Systems' suite of products that serve the traveling public includes:

FlyteBoard is a wall, floor, or ceiling-mounted flat panel screen for lobbies, restaurants, bars, and other public areas. FlyteBoard displays flight information for one or more airports.
FlytePass combines FlyteTouch with free, secure boarding pass printing. It is available as a standalone unit, or neatly packaged in either an all-wood kiosk or an integrated metal kiosk to match your décor.
FlyteTouch enables individual guests to search flight information using an interactive touch screen that displays real-time flight arrivals and departures for one or more airports.
FlyteChannel permits guests to view live airport flight information conveniently and comfortably from their in-room television.
FlytePad is a mobile-ready service that delivers real-time airline information via the iPad.
EventDisplay displays user-configurable meetings and events on screens shared with flight information or on its own dedicated screen.
EventChannel shows property events and specials on the guest's TV.
AmenityBoard lets hotels display profitable amenities anywhere.
InfoBoard is a cost-effective touch screen display that saves labor, provides greater guest service, and generates revenue with flight information and so much more.
Many hotels and resorts also use Flyte Systems' applications to increase revenue with innovative marketing approaches for distressed travelers. For tips on how to generate revenue by providing guests with Flyte Systems airline information, please log on to the Flyte Systems website at http://www.flytesystems.com.
About Flyte Systems
Flyte Systems is a division of Industrial Television Services (ITS), based in Chicago. ITS is a leading digital signage solutions company with more than 50 years of experience specializing in real-time information delivery. Flyte Systems was formed in 2007 to offer real-time, web-based travel technology solutions. Flyte Systems provides subscription-based, environmentally responsible airport flight information and digital signage displays for the hospitality, convention center, and digital signage industries and related businesses. The company's solutions deliver accurate, instant, airport-centric updates of flight information – not just FAA-provided departure times that may be inaccurate when there is a ground delay. Flyte Systems solutions enable properties to differentiate themselves and boost repeat business with 'glance-and-go' content and property promotions. Its products use Energy Star-compliant digital displays to help significantly reduce energy consumption and eliminate unnecessary trips to the airport. Clients include Marriott, Hyatt, Hilton, Starwood, Westin, IHG, Days Inn, Hotel Sofitel, independent properties, convention centers, and transportation centers.