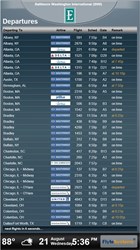 Flyte Systems' FlyteBoard and other travel services add considerable value to our properties by providing confidence and convenience to guests.
Chicago, IL (PRWEB) August 27, 2013
Flyte Systems, the leading provider of airport travel information displays and digital signage content for the hospitality industry, digital signage, convention centers and related businesses, announced the Embassy Suites Baltimore Downtown installed its FlyteBoard airline schedule display. FlyteBoard gives guests accurate, real-time airline flight information for travel confidence that keeps them comfortably on property longer. Click here to request information on Flyte Systems' airport travel and guest information services.
Flyte Systems' services add value to properties
"Flyte Systems' FlyteBoard and other travel services add considerable value to our properties by providing confidence and convenience to guests," said Craig Strickler, Kokua Hospitality LLC's vice president of transitions & standards. Kokua operates the Embassy Suites Baltimore Downtown. "Kokua installs FlyteBoard and FlytePass boarding pass printing at its properties to maximize peace of mind for airport-bound guests. Flyte Systems' services are a unique amenity that guests do not expect, but really love." FlyteBoard shows accurate departures, arrivals, gate information, and delays so guests can remain at the property until their flight is ready." Flyte Systems is the only full service flight information display solution that provides real-time airline flight information.
Flyte Systems launches InfoBoard total travel information center
Strickler noted that Flyte Systems is launching a new guest service display called InfoBoard that provides a full spectrum of travel and property information. "I used InfoBoard at a recent tradeshow and liked it. It is a five-foot high touch screen display with icons guests touch to see flight times, property transportation services, and view property events and maps. They can also check out local eateries and entertainment, and see weather, traffic, and news."
InfoBoard is an attractive cost effective, interactive touch screen display that saves labor, provides greater guest service, and generates revenue. InfoBoard provides:

Real-time airline flight displays for one or more airports
Local eateries and entertainment
Reader board of hotel events and meetings
Transportation options
Revenue generating promotions for local shops, restaurants, and entertainment
News and Weather
Facebook and Twitter access
Hotel amenities
InfoBoard is ideal for hotels, corporate training centers, casinos, airports – anywhere travelers gather for business, recreation, or information.
Embassy Suites Baltimore Downtown is a newly renovated historic building that adjoins the Grand Historic Venue and is a favorite destination for business travelers, leisure guests, and meeting attendees. The 37-story hotel features 300 remodeled guestrooms with modernized bathrooms and wet bars, newly designed lobby and guest public areas, and a new food and beverage outlet, B'more Bistro and Lounge.
Real-time Flight Information
Flyte Systems offers a suite of products that serve the traveling public: FlyteBoard, FlytePass, FlyteChannel, FlyteTouch, FlytePad with handheld airline information, and InfoBoard that combines airline flight information with total property way finding, weather, traffic, area attractions and much more.

FlyteBoard is a wall, floor, or ceiling mounted high-definition, flat panel screen for lobbies, restaurants, bars, and other public areas, displaying flight information for one or more airports.
FlytePass combines FlyteTouch with free, secure boarding pass printing. It can be provided as a standalone or neatly packaged in either an all wood kiosk or an integrated metal kiosk to match your décor.
FlyteChannel permits guests to view live airport flight information conveniently and comfortably from their in-room television.
FlyteTouch enables individual guests to search flight information using an interactive touch screen that displays real-time flight arrivals and departures for one or more airports.
FlytePad is a mobile-ready service that delivers real-time airline information via the iPad, enabling hotel staff to provide guests with airline information anywhere and anytime.
InfoBoard is a cost effective touch screen display that saves labor, provides greater guest service, and generates revenue with flight information and much more.
Many hotel properties also use Flyte Systems' applications to increase revenue with innovative marketing approaches for distressed travelers. For tips on how to generate revenue by providing guests with Flyte Systems airline information, please log on to the Flyte Systems website at http://www.flytesystems.com.
About Flyte Systems
The Flyte Systems Division of Industrial Television Services (ITS), based in Chicago, Illinois, is the leading provider of subscription-based environmentally responsible airport flight information displays for the hospitality, convention center and digital signage industries, and related businesses. It delivers accurate, airport-centric updates of flight information – not FAA-regulated scheduled departure times that may omit last minute changes. Properties differentiate themselves and boost loyalty and repeat business with 'glance-and-go' content essential to a traveler's day. Flyte Systems' products build upon ITS' 50-year history as the leading provider of live flight information to airports, airlines, government agencies, port authorities and other travel-based businesses. Flyte Systems was formed in 2007 to offer Web-based travel technology and products. In addition to using Energy Star-compliant digital displays, Flyte products help significantly reduce energy consumption by eliminating unnecessary trips to the airport. Clients include Marriott, Hyatt, Westin, Embassy Suites, Holiday Inn, Days Inn, Hilton, Doubletree, Hotel Sofitel, Adam's Mark, Renaissance and Crowne Plaza hotels, independent properties, convention centers and transportation centers.
About Kokua Hospitality, LLC
Kokua Hospitality, LLC, is a hotel management firm founded by its parent, The Chartres Lodging Group, LLC, with the mandate to become the operator of choice for strategic institutional and select private lodging investors by producing superior results as turnaround specialists. Created by veteran lodging investment and management experts to appeal to an investor's sensibility, Kokua Hospitality blends best in-class operating practices with an owner's DNA. Kokua Hospitality manages a growing portfolio of hotels and resorts nationwide. For more information on Kokua Hospitality, please visit http://www.kokuahospitality.com and follow us on Twitter @kokuahospitaliT and Facebook at http://www.facebook.com/kokuahospitality .