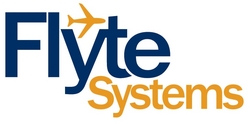 The vast majority of our guests are business travelers
Chicago, IL (PRWEB) August 18, 2009
Flyte Systems, the leading provider of airport travel information displays and digital signage content for the hospitality industry, digital signage, convention centers and related businesses, announced the addition of another airport hotel to its customer base--the Holiday Inn Express Brookpark Hotel in Cleveland.
Located one mile from the Cleveland (OH) Hopkins International Airport, the 67-room property installed FlyteBoard and FlytePass after the owner saw the value of Flyte Systems' real-time airline flight information software at a Holiday Inn Express near Chicago's O'Hare Airport. FlyteBoard live airport information and FlytePass boarding pass printing are cost effective services that give guests greater control of travel plans.
"Almost none of the hotels in our market offer Flyte Systems' unique services," said David Brown, general manager of the property. "We saw it would be a differentiator for us that would attract more business since 85 percent of our guests are traveling by plane. In Chicago I saw how much guests appreciate FlyteBoard flight information displayed on attractive digital signage monitors in the hotel lobby, and how many printed their boarding passes via FlytePass. We were confident this service would increase our already high customer satisfaction rating among InterContinental Hotels Group properties -- 93 percent over the past six months."
The Holiday Inn Express Brookpark Hotel provides wired and wireless Internet, wireless printing capabilities to cater the business traveler, microwaves and refrigerators in every room and lists Flyte Systems' services as added amenities on its Web page. Staff also promotes the services when making reservations by phone. "The vast majority of our guests are business travelers," said Brown. "It makes a big difference to them to know about flight delays or changes while they are still at the hotel. They can relax in our lobby, be productive and have another cup of coffee before they take our van to the airport."
Real-time Flight Information
What sets Flyte Systems apart from PC-based applications is the ability to post accurate, real-time airline flight arrival and departure, not FAA-regulated scheduled departure times that do not list delays caused by air traffic control, aircraft maintenance, crew availability and weather.
Flyte Systems offers a suite of products that serve the traveling public: FlyteBoard, FlytePass, FlyteChannel and FlyteTouch.

FlyteBoard is a wall, floor or ceiling mounted high-definition, flat panel screen for lobbies, restaurants, bars and other public areas, displaying flight information for one or more airports.
FlytePass combines FlyteTouch with free, secure boarding pass printing and can be provided stand alone or neatly packaged in an optional all wood kiosk or integrated metal kiosk, to match your décor.
FlyteChannel permits guests to view live airport flight information conveniently and comfortably from their in-room television.
FlyteTouch enables individual guests to search flight information using an interactive touch screen that displays real-time flight arrivals and departures for one or more airports.
Many hotel properties also use Flyte Systems' applications to increase revenue with innovative marketing approaches for distressed travelers. For tips on how to generate revenue by providing guests with Flyte Systems airline information, please log on to the Flyte Systems website at http://www.flytesystems.com.
About Flyte Systems
The Flyte Systems Division of Industrial Television Services (ITS), based in Chicago, Illinois, is the leading provider of subscription-based environmentally responsible airport flight information displays for the hospitality, convention center and digital signage industries and related businesses. It delivers accurate, instant, airport-centric updates of flight information - not FAA-regulated scheduled departure times that may omit last minute changes. Properties are able to differentiate their products and boost customer loyalty and repeat business with 'glance-and-go' content critical to a traveler's day. Flyte Systems' product suite builds upon ITS' 48-year history as the leading provider of live flight information to airports, airlines, government agencies, port authorities and other travel-based businesses. Flyte Systems was formed in 2007 to offer new Web-based travel technology and product lines. In addition to using Energy Star-compliant digital displays, Flyte products help significantly reduce energy consumption by eliminating unnecessary trips to the airport. Customers include Marriott, Hyatt, Westin, Embassy Suites, Holiday Inn, Days Inn, Hilton, Doubletree, Hotel Sofitel, Adam's Mark, Renaissance and Crowne Plaza hotels, independent properties, convention centers and transportation centers.
About Holiday Inn Express Brookpark
Holiday Inn Express Brookpark/Cleveland Hopkins Airport hotel offers the ideal location to make your stay memorable. We are conveniently located 1 mile from the airport, 4 miles from the IX Center, and 4 miles from car rental facilities. Our hotel provides the perfect blend of style and service with guest-oriented amenities and lifestyle-inspired features such as spacious guest rooms with cable television, large desks and free wired and wireless high-speed Internet access. We also offer complimentary hot breakfast bar, and free local phone calls.
Contact:
Flyte Systems
Debbie Kalish, Account Executive
3515 Martens Street
Franklin Park, IL 60131
Phone: (877) 463-5983
http://www.flytesystems.com/?Campaign=PRWebClevelandAug182009
Media Contact:
Julie Keyser-Squires, APR
Softscribe Inc.
180 River Springs Drive NW
Atlanta, GA 30328
Phone: (404)256-5512
http://www.softscribeinc.com
http://www.marketingsnacks.com
###