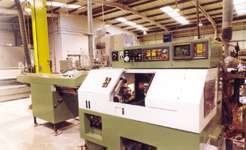 FYI 2013 encourages students to think outside of their normal box and create concepts without being restricted.
Accrington, Lancashire (PRWEB) April 02, 2012
Fly Your Ideas 2013 officially launched at the Going Global international education conference in London this week. The Going Global conference provides an opportunity for students to liaise with business leaders and industry experts, where innovation, the future and the 'connected world' are high on the programme's agenda.
'We produce and supply components for the aviation industry,' says Lee Parnell, sales manager at Accrington-based Langtec Limited, manufacturers of electrical and fibreglass tube components for over fifty years. 'And it's innovative projects like this that constantly improve life for everyone.'
Fly Your Ideas is part of the Future by Airbus programme, which is aiming to achieve sustainable air travel by 2050. Registration for the third FYI challenge is opening May 2012, giving prospective students time to write their concepts down. 'This is brilliant news for students,' says Lee Parnell, who retails fibreglass tube components. 'They can work with industry professionals gaining some priceless experience and exposure with a global brand.'
The biennial Fly Your Ideas competition revealed it will concentrate on six key issues within the air transport industry, inviting entries from university students of any nationality or subject to take part and submit their ideas for the future aviation industry, concentrating specifically on ecologically friendly concepts. 'From the point of a view of a student, often there's a lot of academic experience with very little working knowledge gained along the way,' says Lee Parnell from fibreglass tube manufacturer, Langtec. 'FYI 2013 encourages students to think outside of their normal box and create concepts without being restricted.'
This year the students will have the choice of six aviation industry issues to solve with their concepts: affordable growth, efficiency, energy, community friendliness, passenger experience and traffic growth. Teams of between three and five students can register from May with the official competition activities commencing in September 2012, with selected entrants presenting their concept to a panel comprising of experts from Airbus and the air travel industry. The runners' up will receive a prize of 15,000 euros with winners scooping a 30,000 euros jackpot.
'The experience of taking part in the project is priceless,' says Lee Parnell from carbon fibre tube manufacturer, Langtec. 'It will allow students to develop and lead their ideas from conception to production with lots of practical advice available along the way.' Students and their academic representatives will be supported on the project by an Airbus expert in their chosen field and a mentor to encourage the direction of the concept.
The Executive Vice President of Engineering at Airbus said that he wished students to consider those who first made air travel a reality and adopt that same attitude of determination and innovation. 'Previous Fly Your Ideas projects have proved very successful,' says the carbon fibre tube sales manager, Lee Parnell. 'FYI 2011 saw over 2,600 students from 287 universities worldwide submit their ideas. The finalists of FYI 2011 have set a high benchmark too; Team Condor from Chile created an aerodynamic speed brakes design and claimed the 15,000 euro runner-up prize. Best Video prize was awarded to Spanish team Ecolution, produced a project on lightweight natural fibre composites in aircraft cargo containers.'
The Stockholm School of Economics were selected for the final stages and represented by Team SSE, whilst the Malaysian Team Msia On Mars joining them after their idea of using biodegradable materials from Kapok tree fibres was enough to impress the judging panel. Team 03 from the Indian Institute of Technology Roorkee were also flown to Paris for the final stages, with team members all offered internship positions within Airbus.
'It's projects like Fly Your Idea 2013 that allow students to showcase their skills and talents to prospective employers' says Lee Parnell of Langtec, manufacturers of fibreglass tubes. 'Airbus are a globally recognised brand, and internships with such large corporations can offer a secure career with plenty of room for progression.'
'It was China's Nanjing University of Aeronautics and Astronautics, represented by Team Wings of Phoenix who won FYI 2011 with an innovative wind power generation system. They had created a concept that exploits aircraft wakes and converts them to energy,' says Lee Parnell. 'Langtec has been manufacturing fibreglass tubes and carbon fibre tubes for over fifty years, but the idea of those once began as someone's concept. The ideas generated by the students of today can shape the future of the aviation industry.'
It is diversity that makes a difference,' add Charles Champion, who is also patron of this third incarnation of Fly Your Ideas. 'FYI 2013 attracts a broad spectrum of talented students and gives them the opportunity to work with us on the challenges we face and the opportunities they hold for aviation in tomorrow's world.'
'FYI 2013 will be bigger than before,' says Lee Parnell, sales manager of phenolic tube and carbon fibre tubes supplier, Langtec. 'And if you are a student with an idea for a concept, I'd urge you to take part. Who knows- in years to come, you may be liasing with companies like Langtec to bring those concepts into physical form.'
Students interested in applying should visit http://www.airbus-fyi.com/ for further details.
For the best web design in Bolton, choose Vizcom