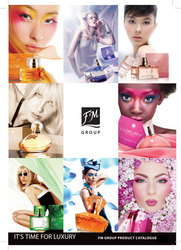 Chicago, IL (PRWEB) October 28, 2009
Realizing a Dream of Global Success
The FM Group was founded by Artur Trawinski, a Poland-based businessman who had a dream of creating an exclusive fragrance and cosmetic line that would benefit both customers and distributors. Trawinski's primary goal was to offer designer-inspired scents at budget-friendly prices that more people could afford.
The FM Group leverages the power of Multi-Level Marketing (MLM), partnering with distributors located in dozens of countries across the country. Each team member is dedicated to ensuring customer satisfaction while exceeding sales performance goals, ensuring the success of everyone involved.
Some of the world's most successful MLM distributorships were launched during periods of recession. Avon got its start in the United States in 1886, and Mary Kay was founded in 1963. Although these were times of economic difficulty, both companies experienced almost immediate growth and profits. The FM Group has achieved its quick success by following this proven business model.
Premium Products, Profitable Partnerships
Offering a robust selection is one of the main objectives of the FM Group. The company offers an aromatic bouquet of premium scents for men and women--fresh, flowery, oriental, woodsy, fruity, and many more--in addition to high-quality cosmetics.
The eclectic product line is designed to appeal to all age groups and tastes, offering something for everyone. To ensure the purest, most premium scents, the FM Group works with some of the industry's most respected fragrance developers, including the prestigious DROM of Munich, Germany.
Because the FM Group relies on a team of international distributors to market their products, they offer a unique, lucrative business opportunity for self-motivated salespeople.
Looking Ahead to New Opportunities
In today's struggling economy, consumers are seeking affordable alternatives to expensive designer fragrances. After seeing such quick growth in just 5 years, the FM Group is optimistic about future expansion. Their recent foray into the US market exemplifies the hard work and dedication that has contributed to the company's success.
In the coming months and years, the FM Group will continue to focus on building a robust network of reliable suppliers and highly trained independent distributors, ensuring that each customer receives exceptional quality and service. This business model will help the company achieve their long-term goal of leading the world in the production and distribution of fine fragrances. See FM World
###