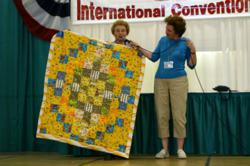 Many RVers are involved in the activities of Habitat for Humanity, an ecumenical Christian housing ministry dedicated to eliminating poverty housing worldwide.
Perry, GA (Vocus/PRWEB) March 03, 2011
Cincinnati-based international motorhome owners group FMCA will host its 85th Family Reunion & Motorhome Showcase at the Georgia National Fairgrounds & Agricenter, March 14 to 17, 2011. The association has made it a goal to give back to the communities it visits for its conventions.
A group of Family Motor Coach Association members who enjoy quilting have been stitching special gifts to leave behind in Perry. The FMCA On-Road Quilters will donate children's quilts to the Crossroads Quilt Guild, which provides quilts to the children's hospital, area police and fire departments, and shelters for battered women.
Based on past motorhome conventions, Arlene Kaminski, the Family Motor Coach Association member who coordinates this effort, expects that FMCA members will bring along and donate some 40 to 50 quilts.
The quilts will be on display at the FMCA Information Center in the Multipurpose Building on Thursday, March 17, from 10 a.m. to 4 p.m. This has become an FMCA tradition and is one means of leaving something behind in the community.
During the convention, used eyeglasses will be donated by FMCA members as a way of supporting the Lions' Foundation Eyeglass Program, which helps to ensure that needy people are able to enjoy the benefits of vision correction.
Many RVers are involved in the activities of Habitat for Humanity, an ecumenical Christian housing ministry dedicated to eliminating poverty housing worldwide. In fact, FMCA even has a motorhoming chapter whose members donate their time and talents throughout the year by participating in Habitat for Humanity builds. The group often schedules builds near conventions and rallies that FMCA hosts. The chapter is scheduled to participate in a two-week build in Plains, Georgia, following the Perry convention.
FMCA members will be able to make donations for future builds at the Habitat booth located in the FMCA Information Center in the Multipurpose Building beginning on Monday, March 24, or by mailing a check to FMCA, c/o Round Up Programs, 8291 Clough Pike, Cincinnati, OH 45244. Make checks payable to FMCA and note that the donation specifically is for Habitat for Humanity. All contributions received will be donated in FMCA's name to Habitat for Humanity; no administrative fees will be retained by FMCA.
The Professional R.V. Vendors chapter of FMCA will be collecting non-perishable food items during the convention for donation to a local food bank.
On Tuesday, Wednesday, and Thursday, March 15 to 17, at high noon, FMCA national officers compete in pedal boat races. Attendees will be able to cheer on their favorite pedal boat by donating a dollar to benefit the local food bank. Those who donate to the winning boat for the day will have the opportunity to exchange their winning ticket for 100 Grand — a 100 Grand "fun-size" candy bar, that is!
These represent only a few of the ways Family Motor Coach Association members are making a difference in the lives of others. Many of the association's nearly 500 chapters support various worthwhile causes year-round.
In addition, throughout the year association members participate in a dues "Round Up" program that benefits Habitat for Humanity, the National Center on Family Homelessness, ProLiteracy Worldwide, and Good Will-Hinckley, organizations that provide a helping hand to families throughout the country. To date the association has donated more than $1 million to these organizations.
It's no accident that "Family" is the first word in the Family Motor Coach Association's name. Association members place great value on "family matters" and have chosen to help families in need whenever possible.
Family Motor Coach Association • Enhancing The Motorhome Lifestyle
The Family Motor Coach Association is an international organization for people who own and enjoy the recreational use of motorized, self-contained recreation vehicles known as motorhomes. The organization's national office is located in Cincinnati, Ohio, and can be reached toll-free by calling (800) 543-3622 or visiting FMCA.com.
###