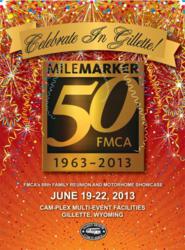 Those who own a motorhome or other self-contained RV are invited to take part in all of the activities and also to bring their RV and stay with the rest of the group at CAM-PLEX.
(PRWEB) April 17, 2013
More than 2,000 motorhomes and some 8,000 people are expected to gather for FMCA's 88th Family Reunion and Motorhome Showcase, which has been dubbed "Celebrate In Gillette."
CAM-PLEX Multi-Event Facilities will be the hub of activity for the motorhome showcase, with families arriving and staying in their RVs and forming a small city on wheels.
The association hosts conventions in varying locations across the United States with the purpose of celebrating the motorhome lifestyle and is making its first visit to Gillette for a Family Reunion and Motorhome Showcase.
The association's Rocky Mountain Area hosted a smaller, regional rally at the facility this past September. FMCA also hosted a convention at the University of Wyoming in Laramie back in 1992.
Since the motorhome owners group is celebrating its 50th anniversary in 2013, the event in Gillette will serve as the organization's official birthday bash. A number of special activities are planned to commemorate the occasion, including a display of Flxible motorhomes, the classic coach that appears in the association's logo.
A nostalgia room will be set up with memorabilia depicting 50 years of motorhome fun and friendships. A Black Tie & Blue Jeans Dance is on tap for one evening, and The Buckinghams, one of the top pop groups of the 1960s, will enhance the trip down memory lane the following night. Five-time Grammy winner and country music star Marty Stuart will perform on the final night of FMCA's evening entertainment.
Regular convention activities include a motorhome exhibition that brings together major motorhome manufacturers and dealers from throughout the United States and Canada, as well as manufacturers and distributors of a multitude of RV accessories and components, and suppliers of various services related to RVs.
For those considering the purchase of a motorhome, the convention provides an opportunity to view an assortment of makes and models all in one location. A variety of 2013 models, in many different sizes and price ranges, will be on display, and some manufacturers will have 2014 models ready as well.
In addition to the motorhome show, highlights include RV seminars on a variety of topics related to motorhomes and RV travel, tours involving local sites and scenes, entertainment, and numerous social activities.
While the convention is organized for Family Motor Coach Association members, the organization also invites members of the public to attend and provides various admission options. For those who want to view only the motorhome exhibition, admission costs $5 per day; children 12 and under are admitted free with an accompanying adult. Those with an active military ID are admitted free also.
Anyone who would prefer to take in the exhibits and also attend seminars and entertainment may purchase a Daily Passport, which is available for $65 per person ($55 for FMCA members).
Those who own a motorhome or other self-contained RV are invited to take part in all of the activities and also to bring their RV and stay with the rest of the group at CAM-PLEX.
The price for non-FMCA members is $215 per RV (with two people) up until the April 29 early-bird registration deadline; the non-member price goes to $245 after that date. This non-member fee automatically grants a one-year FMCA membership or Family Motor Coaching magazine subscription to the RV owner. The FMCA member price is $165 before April 29 and $195 after that date. Additional fees are charged for those who wish to have electrical hookups.
The association welcomes all motorhome owners to join FMCA. Dues are $50 for the first year, and $40 per year thereafter. In honor of FMCA's 50th anniversary, the association is offering a special promotion wherein new members who join from now until FMCA's July 20, 2013, birthday will receive a free second year of membership. To take advantage of this "buy one, get one" offer, motorhome owners should use code BOGO50.
Those who do not yet own a motorhome but are interested in learning more may sign up for a subscription to Family Motor Coaching magazine for $30 per year.
About Family Motor Coach Association: Enhancing The Motorhome Lifestyle
Now in its 50th year, Family Motor Coach Association (FMCA) is an international organization for families who own and enjoy the use of self-contained, motorized recreation vehicles known as motorhomes. The association maintains its national headquarters in Cincinnati, Ohio, and currently has more than 80,000 active member families. FMCA offers a number of benefits for motorhome owners, including a subscription to its monthly magazine, Family Motor Coaching; trip routing; mail forwarding; and group rates on motorhome insurance, and an emergency medical evacuation plan. Perhaps the most important benefit of FMCA membership is the camaraderie and friendships that develop among people enjoying the common interest of motorhome travel and recreation.