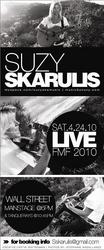 "It's great to be able to come back and play a show in Florida. It's especially an honor to play FMF2010," Suzy said. "I'm hoping to sign with a record label whose artists I can identify with as well as inspire me."
Orlando, FL (PRWEB) April 20, 2010
Rising San Diego-based singer-songwriter-filmmaker Suzy Skarulis will perform at the Florida Music Festival in Orlando Saturday, April 24.
Originally from Florida's Gulf Coast, Suzy is unsigned and best known for her soulful surf-influenced folk and rock music.
Click here (http://www.myspace.com/suzyskamusic) to listen.
Before moving to the north shore of Oahu at the age of seventeen, Suzy grew up a wave-starved surfer on the Gulf Coast of Florida surrounded by a family of musicians. Influenced by her father's passion for jazz and blues, Suzy has managed to create a sound comprised of laid back surfing acoustic elements, as well as soulful blues, folk, and rock.
Suzy moved to San Diego in search for an audience at the age of nineteen. Since then, she has had the opportunity to record at well-known studios such as Signature Sounds, Capricorn, and StageOne. A member of the San Diego Songwriter's Guild and SD Songwriter's Meetup, she has collaborated with many musicians as well as performed nationwide.
Suzy is scheduled to perform two shows at FMF2010 on Saturday, The Wall Street Main Stage at 6 p.m. and Tanquerays at 10:45 p.m.
For more information: http://www.musicbysuzy.com.
###