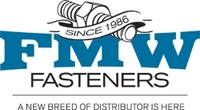 Online consumers no longer just 'want' multiple avenues to purchase your products and services; they expect it.
Houston, TX (PRWEB) April 7, 2011
FMW Fasteners has completed the first phase of integrating their online inventory of fastener products into Facebook, making their products searchable and available for purchase to over 500 million active users in the Facebook community. The first phase of this integration includes 122 categories of nuts, bolts, washers, screws, anchor products, socket products, rivets, pins, drill bits and insert bits.
"The presentation of your company's products and services can no longer include only your company's website," said Taha Raja, General Manager of FMW Fasteners. "Online consumers no longer just 'want' multiple avenues to purchase your products; they expect it. Facebook is simply one facet of our overall strategy that encompasses multiple avenues for end users to buy fasteners online."
"We're excited about integrating our online inventory into Facebook as it allows us to tap into an online community that is by nature, predisposed to buying online," said Steve Baker, Sales Manager at FMW Fasteners. "In addition, leveraging products like Facebook, Twitter and others allows us to deliver very specific, targeted product promotions, clearance specials, news and updates in a way that antiquates even email marketing now."
You can visit FMW Fasteners on Facebook at this link and follow them on Twitter here.
FMW Fasteners is an online provider of anchor products, nuts, bolts, socket products, and screws. Founded in 1986 in Houston, Texas, FMW Fasteners has grown from a local mid-tier distributor to an online provider carrying quality products by Brighton Best, Simpson Strong-Tie Anchor Systems, TOGGLER® Anchor Systems, Powers Fasteners and many more. For more information, visit http://www.fmwfasteners.com.
###