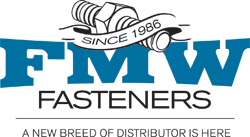 Houston, Texas (PRWEB) July 20, 2012
FMW Fasteners is now offering premium corrosion resistant self drilling screws from ITW Buildex in both medium and heavy duty sizes and can ship with or without bonded EPDM sealing washers. These are the industry standard for steel to steel fastening applications where corrosion resistance is a concern and lower tapping torque is needed. TEKS® are ideal for for attaching clips, duct straps, brick ties or accessories to steel framing.
In addition to extremely competitive pricing, FMW Fasteners also offers free shipping on orders over $25.00 and flat rate $5.00 shipping on orders under $25.00.
Established in 1967, ITW Buildex, a division of Illinois Tool Works, continues to evolve in its role to manufacture and provide innovative, value-added fastening solutions to the global construction market. The ITW Buildex product portfolio includes TEKS® self-drilling fasteners, Sammys® threaded rod hangers, Dektite® flashing systems, E-Z Ancor® drywall anchors, and Dek-King® for wood deck construction. Proprietary coatings include Climaseal® and Climacoat® which are unmatched in the industry.
FMW Fasteners is an online provider of anchor products, nuts, bolts, socket products and screws. Founded in 1986 in Houston, Texas, FMW Fasteners stocks premium products by Brighton-Best, Simpson Strong-Tie Anchor Systems, ITW Buildex, Intercorp, Toggler® Anchor Systems, FastenMaster and many more. For more information, visit http://www.fmwfasteners.com or follow FMW Fasteners for updates and promotions on Twitter, Google+ and Facebook.