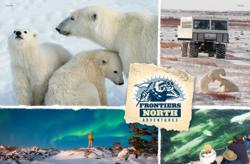 "This adventure encompasses exactly what our guests have come to expect from a Frontiers North Adventure – unforgettable experiences and dramatic wildlife."
Winnipeg, Manitoba (PRWEB) June 21, 2011
Frontiers North Adventures, the premiere provider of authentic arctic experiences in Canada's north, is pleased to announce Frontiers North's Big Five Safari, providing visitors the opportunity to see moose, black bear, bison, beluga whale and polar bears in a single adventure.
"Frontiers North's Big Five Safari is a nod to the incredible array of mega-fauna that populate the rivers, forests and tundra of Manitoba," said John Gunter, General Manager, Frontiers North Adventures. "We're passionate about Canada and we wanted to design an adventure that showcases the wildlife we have right here."
Frontiers North's Big Five Safari explores two of Canada's richest wildlife viewing areas: Riding Mountain National Park and Churchill, Manitoba and invites guests to experience quintessential North American fauna.
"Our latest adventure encompasses exactly what our guests have come to expect from a Frontiers North Adventure – unforgettable experiences and dramatic wildlife," said Gunter. "We're offering an amazing opportunity to see all of this wildlife in a single adventure."
The seven-night, eight-day journey begins and ends in Winnipeg, Manitoba, the geographic center of North America. In southern Manitoba the safari takes guests to Riding Mountain National Park, to view and photograph black bear, bison and moose. This rich wilderness in the midst of Manitoba's prairie landscape covers 3,000 km2 (1158 sq. miles) of rolling hills and valleys. The Park offers boreal forest, expanses of meadows and lakes, and deep gorges of the Manitoba Escarpment, not to mention being home to moose, black bears, a bison herd, as well as hundreds of bird species, wolves and elk.
After enjoying the serene landscape of Manitoba's southern plains the safari heads north to the west coast of Hudson Bay where the boreal forest gives way to rugged tundra and vibrant marine ecosystems. This expanse is home to the Lords of the Arctic, the mighty polar bear; and the canaries of the sea, beluga whales.
Frontiers North's Big Five Safari occurs during the summer months, taking advantage of brilliant, colourful flora and ample daylight. Well-paced day-to-day activities, comfortable accommodations, distinctive cuisine, and the opportunity to see a wide array of wildlife make this adventure a nature and wildlife enthusiasts dream.
About Frontiers North Adventures
Owners and operators of the world-famous Tundra Buggy® Adventure, Frontiers North Adventures currently offers wildlife-viewing programs in Manitoba, Nunavut, and British Columbia, the most popular adventure being to experience Polar Bears in Churchill. An award-winning ecotourism company, Frontiers North Adventures has been recognized by the Tourism Industry Association of Canada as one of the top three sustainable tourism operators in Canada. Known as an international leader in sustainable tourism, Frontiers North Adventures generates polar bear conservation awareness through their partnership with Polar Bears International.
###