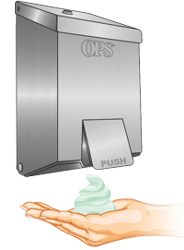 San Francisco, CA (PRWEB) February 21, 2013
The OPS® 1-TOUCH™ Foaming Soap Dispensers are ideal for hospitals and other healthcare facilities. The wall-mounted dispenser is 100% patient proof and provides a safe solution in any restroom setting, particularly when it comes to preventing suicides.
Andrew Werth, VP of Marketing for Archer Manufacturing states, "Hospitals are particularly vulnerable when it comes to soap dispensers and patients using them as weapons or as tools to commit suicide." Most dispensers today are made of plastic or a flimsy grade of stainless steel. There is nothing stopping a patient from breaking the dispenser and tearing a piece off to form a sharp tool, or an object small enough to swallow.
Some soap companies have developed wire cages in an attempt to bolster the defenses of their dispensers, but these cages break, or are the cause of ligature concerns. Many dispensers also have external parts that can be broken off and swallowed, or present a ligature danger by providing a space for a patient to tie a shoelace or string.
The OPS 1-Touch dispensers developed by Archer Manufacturing, on the other hand, are 100% patient proof!

Made from 14 and 16-gauge stainless steel, these stainless steel soap dispensers cannot be broken.
There are no external parts that patients can break and use to hurt staff members, other residents, or themselves.
The dispensers are securely locked with a stainless steel, circular key-way cam-lock that prevents patients from opening the dispenser to drink or contaminate the soap.
There are no hang points. Even the top of the dispenser is slanted to prevent ligature.
There are no sharp edges. An epoxy, vinyl coating over the stainless steel finish adds an additional layer of security so people cannot cut themselves by accident or on purpose.
In addition to the advantages of their soap dispensers, Archer Manufacturing works closely with hospital staff in order to mount the dispensers properly, thus negating the worry that a patient will rip the dispenser off the wall and use it to hurt themselves, another patient, or staff.
The OPS® 1-TOUCH™ foaming soap dispensers are available now at http://www.vandalproof.org/. For more information, go to http://www.vandalproof.org/hospital-soap-dispenser.
About Archer Manufacturing
Archer Manufacturing is the chief provider of the world's only 100% vandal proof, soap dispensing system. Archer Manufacturing has been offering specialized safety dispensers for over a decade to prisons, hospitals and other institutions and facilities – as well as a variety of premium soap products including Eco Hand Soap, Hand Hair and Body Wash, Antibacterial Soap and Instant Hand Sanitizer. Their indestructible soap dispensers are lockable and enclosed in a handsome, industrial grade, brushed stainless steel exterior for superior durability. All OPS® 1-TOUCH™ dispensers come with a 5-year warranty against vandalism.