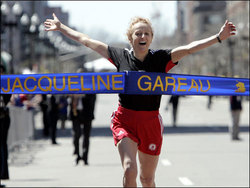 The Muscle Angel is the best tool for loosening my tight muscles
Brookline, MA (Vocus) July 13, 2010
Jacqueline Gareau, former Boston Marathon winner, is the newest elite runner to endorse Muscle Angel Massagers™. "The Muscle Angel is the best tool for loosening my tight muscles," says Jacqueline. "I find it especially effective on my piriformis and hamstring muscles."
Jacqueline first discovered Muscle Angel Massagers™ at the Boston Sports and Fitness Expo in April 2010. She was able to ease her muscle pain and tightness by placing a Muscle Angel on a chair and rolling her glutes and piriformis muscles back and forth on the massaging Nubbin-Fingers™ that encircle the product—letting the weight of her body help provide deep tissue relief. Jacqueline bought several Muscle Angels™ at the show that day, and now plans to buy more for her massage therapy clients.
Similarly, Simonetta Piergentili, ranked 1st in the Women's 45 – 49 years old, and 5th in the Masters (40 – 49 years old) in this year's Boston Marathon (2010), is also experiencing continued relief from her Muscle Angel™. "Muscle Angel Massagers™ provide a great solution for both competitive athletes and weekend warriors," says Simonetta. "After racing in 16 marathons, I am convinced that every runner should keep a Muscle Angel™ in his or her gym bag!"
Susan Z. Robins, president of Muscle Angels™ explains, "Regardless of a runner's level of ability, Muscle Angel Massagers™ are uniquely effective at soothing such ailments as tight iliotibial (IT) bands, piriformis syndrome/sciatica, tendonitis and other common running-related afflictions." Susan continues, "Muscle Angel Massagers™ are also helping athletes who enjoy other sports including -- soccer, tennis, golf, baseball, basketball and skiing, as well as people with disabilities who participate in Special Olympics and Paralympic sports activities!"
To read more testimonials, and to view the new "How-to-Use" training videos that demonstrate the many benefits of Muscle Angel Massagers™, please visit http://www.muscleangelmassagers.com.
About Muscle Angels™.
The Muscle Angels™ hand-held massager provides quick relief from muscle pain and fatigue while increasing flexibility, circulation, mobility and elasticity. Muscle Angel Massagers™ combine the benefits of Myofascial Trigger Point, Acupressure, and Deep Tissue Massage—all in one product, and it is the only massager of its type that has been designed with an easy-to-use hands-free option for people who suffer from bilateral hand and arm pain. The Stability Sleeve, an add-on product, enables users to access hard-to-reach muscles without assistance.
###