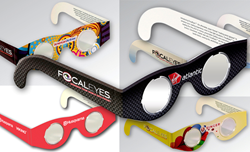 "A low-cost pair of reading or eye glasses just didn't exist. The fact that we can make this product available to lots of people who really need it and for a very low cost is exciting! Think about the impact a product like this could have on people in the
Reseda, California (PRWEB) April 08, 2014
"Imagine you're sitting down in a dimly lit restaurant with this great menu you've been eager to try, but can't read it because you left your reading glasses at home. Or you're boarding an airplane and picking up the in-flight magazine, only to realize you packed your reading glasses in your luggage. Or have you ever tried to read the impossibly tiny printed instructions on a prescription bottle without your reading glasses?" Asks Mark S Margolis. "With this week's launch of FOCALEYES Reading Assist Glasses, you and your customers can now see clearly in these types of situations."
FOCALEYES is an exciting, new patented product from FOCALEYES, LLC. The company was founded by successful entrepreneur Mark S. Margolis, who also owns Rainbow Symphony the leading manufacturer and supplier of 3D glasses, Fireworks Glasses and Eclipse Shades to the promotional products industry since 1975. Mark says, "You could live your entire life without ever having a pair of 3D glasses or Fireworks Glasses and be perfectly fine. Although fun and entertaining, you don't need them. What people do need is an inexpensive, convenient pair of glasses that allows them to see and read in all types of conditions. Usually around age 40, people start showing signs of presbyopia and lose the ability to focus their eyes. People need glasses with corrective lenses to read. FOCALEYES Reading Assist Glasses solve this problem."
FOCALEYES are low-cost, brandable paper frame reading glasses that are comfortable to wear, stylish and fun, and offer precise magnification in high- and low-light environments. They can be customized in any color or design, with any company logo or copy. "Any design you can think of can be printed on a pair of FOCALEYES frames," says Mark. Additionally, FOCALEYES come in a variety of attractive stock frame designs, ready for your logo and creative touch. Inexpensive enough to give away, FOCALEYES are the perfect promotional item.
Besides all the custom benefits that will allow companies of all sizes and industries to tailor these paper reading glasses for their different customers or special events, Mark, who spent six years designing, perfecting and patenting the product to bring it to market, says, "A low-cost pair of reading or eye glasses just didn't exist. The fact that we can make this product available to lots of people who really need it and for a very low cost is exciting! Think about the impact a product like this could have on people in the world who have no access to corrective lenses, and if they did, wouldn't be able to afford them. Half a billion people worldwide are in need of eyeglasses!"
Other benefits of FOCALEYES include:

Available in four powers: +1.5, +2, +2.5 and a +5 magnifier (In the future, the goal is to introduce basic prescription corrections into the FOCALEYES™ frame system)
The +5s are great for magnifying fine detail work (Think: using as part of a first aid or emergency kit to remove a splinter or dress a wound, or reading 4-6-point type on a prescription bottle)
Synthetic water-resistant laminated option for the rugged customer who might, for example, need to read a book or instruction manual while near water
Affordable price point at $1-$3 per pair (Most store-bought reading glasses run between $5-$20; prescription glasses run even higher, not to mention the cost of a doctor's visit)
Wide range of quantities to meet every need, with only a 250 minimum order for custom branded glasses
Frames are made to last with two layers of extra-thick coated board; lenses are crystal-clear acrylic resin
To inquire with questions or to place an order, visit the FOCALEYES website at http://www.focaleyes.com or contact 818-708-8400.