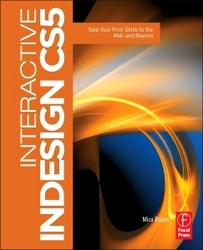 Two new books by Focal Press experts offer communications professionals guides to putting cutting-edge interactive tools to work.
Burlington, MA (Vocus) November 15, 2010
The move from print to the web and from the static web to the interactive web has been fast and furious. No sooner did we gain and master a digital platform for one-way communication then web-interactivity offered two-way communication with our customers and stakeholders. Two new books by Focal Press experts offer communications professionals guides to putting cutting-edge interactive tools to work.
From creating interactive PDFs to full-fledged Flash sites, the expanded capabilities of InDesign now make it possible to design projects that go beyond print into the world of Web and interactive. Adobe expert Mira Rubin brings her teachings skills and design wizardry to bear in Interactive InDesign CS5, the first book of its kind expressly devoted to the interactive capabilities of InDesign CS5 and its use in creating documents destined for output to interactive PDF and Flash SWF.
Print and web designers know that another essential element of any modern web communications program is video that effectively presents their message with the high quality that audiences expect. In Professional Web Video, digital video expert and a business professional Richard Harrington gives soup-to-nuts information on how to produce web video and, most importantly, how to use it effectively. Taken together, Interactive InDesign CS5 and Professional Web Video provide web and print designers the step-by-step, fully illustrated instructions they need to reach a new level of audience interactivity and maximize their Web presence.
Mira Rubin has worked as a full-time Adobe certified instructor since 2000 and has owned and operated Mira Images (http://www.miraimages.com), an Adobe authorized training center, since 2003. As an instructor, her focus is on delivering real-world skills with an emphasis on efficiency and best practices. That focus is apparent on every page of Interactive InDesign CS5, which functions as both a reference book, with sections broken out by topic, and a training guide, with real-world exercises provided for each chapter on a forthcoming companion Web site (http://www.interactive-indesign.com) so readers can learn by doing and keep abreast of continuing developments. Interactive InDesign CS5 also contains:

450+ lavish illustrations to engage the reader with step-by-step instruction and challenging exercises
Power-user tips, productivity tools and best techniques peppered throughout
An entire section dedicated to best practices for successful output to interactive PDF, Flash SWF and Flash Professional, with how-to's for using Acrobat and Flash Professional to extend the InDesign-generated files
A Type and Layout section making this an indispensible guide on the InDesign-to-interactive workflow
Interactive InDesign CS5 is just one of Focal Press's answers to the question, "How do I make the most effective interactive Web site?" Another is Professional Web Video: Plan, Produce, Distribute, Promote and Monetize Quality Video. As Web designers and communication professionals rush to populate their Web sites with video, they realize that quality video is not as easy as the camera salesmen portrayed it: Professional Web Video explains how to do it right so readers can add professional-level video to their Web communications toolbox with a complete understanding of the process, potential, and limitations.
Author Rich Harrington is a member of the Photoshop Professionals Instructor Dream Team and owner of the visual communications consultancy, RHED Pixel. Both Harrington and his co-author Mark Weiser have extensive experience as videographers and producers and know how to maximize budgets, locations, and production opportunities. They put their combined know-how to work in Professional Web Video using 500+ full color, engaging illustrations to show a professional team executing every facet of the job and a forthcoming companion web site (http://www.HyperSyndicate.com) featuring planning and production templates, demo files, and blog updates.
More than a guide to the proper tools and buttons to push, Professional Web Video tells Web and communications professionals what video can (and cannot) accomplish, and how to manage a production so that it fulfills the established communication objectives. It is an accessible guide to the technology that is application agnostic; it presents a tried-and-true process without bias toward specific tools. Planning documents, production benchmarks, and distribution options are all presented in a way that are useful to the communications professional--whether they are producing the video themselves or overseeing a vendor.
COMING SOON
Cesare Rocchi's mantra is Get It and Do It, then put your new skills to the task. In Data Visualization with Flash Builder: Designing RIA and AIR Applications with Remote Data Sources he teaches readers how to design and create functional applications that interact with remote data sources. A designer and developer of Rich Internet Applications, Rocchi gives a thorough introduction to the latest Flash Builder tools and shows how to use built-in wizards, MXML, or pure ActionScript 3 to build information-rich applications for the browser or AIR applications. Data Visualization with Flash Builder offers:
Tutorial lessons for hands-on comprehension
A companion website with a re-usable code repository, author blob, and reader forum
A full color presentation that appeals to a designer's aesthetic
Web designers need look no further than Focal Press for the technology industry's most informative and accessible new titles. Companion Web sites for each title ensure that new information is processed and applied in record time.
RECENTLY RELEASED
HTML5: Visualizing the Web and Data Visualization with Flash Builder: Designing RIA and AIR Applications with Remote Data Sources round out this season's top offerings for designers from Focal Press.
HTML5 is the first major update to the core language on the Web in more than a decade. HTML5: Visualizing the Web is the one book designers need to:
Implement the powerful new multimedia and interactive capabilities offered by HTML5, including style control tools, illustration tools, video, audio, and rich media solutions
Understand how HTML5 is changing Web development
Interact with project-based treatments that show--and don't just tell--how HTML5 can improve Web sites
Reinforce practical understanding of the new standard with demo applications and tutorials, so that execution is one short step away
The companion website, visualizetheweb.com, will be packed full of extra information, online code libraries, and a user forum, offering even more opportunity to learn new skills, practice your coding and interact with other users.
Professional Web Video: Plan, Produce, Distribute, Promote and Monetize Quality Video by Richard Harrington and Mark Weiser
Imprint: Focal Press / ISBN: 978-0-240-81509-1; e-ISBN: 9780240815107 / Price: EUR 32.95/USD 44.95/GBP 27.99 /Publication date: December 13th, 2010
Interactive InDesign CS5: Designing for Inactivity with InDesign by Mira Rubin
Imprint: Focal Press / ISBN: 978-0-240-81511-4; e-ISBN: 9780240815121 / Price: EUR 35.95/USD 49.95/GBP 30.99 / Publication date: January 10th, 2011
Data Visualization with Flash Builder: Designing RIA and AIR Applications with Remote Data Sources by Casare Rocchi
Imprint: Focal Press / ISBN: 978-0-240-81503-9; e-ISBN: 9780240815046 / Price: EUR 28.95/USD 39.95/GBP 24.99 / Publication Date: January 24th, 2011
HTML5: Visualizing the Web by Matthew David
Imprint: Focal Press / ISBN: 978-0-240-81328-8; e-ISBN: 9780240813295 / Price: EUR 28.95/USD 39.95/GBP 24.99/ Publication Date: August 7th, 2010
About Focal Press
Focal Press has been a leading publisher of Media Technology books for 70 years. We provide essential resources for professionals and students in many areas including: film and digital video production, photography, digital imaging, graphics, animation and new media, broadcast and media distribution technologies, music recording and production, mass communications, and theatre technology.
About Elsevier Science & Technology Books
Elsevier S&T Books provides seamless integration of its superior scientific and technological content through online resources such as SciVerse, ScienceDirect and BrainNavigator, the award-winning product that improves the quality of neuroscience research. The S&T Books' family of imprints includes Focal Press, Butterworth-Heinemann, Morgan Kaufmann, Syngress, CIMA Publishing, William Andrew, Newnes, Architectural Press, Academic Press and Academic Cell Press.
About Elsevier
Elsevier is a world-leading publisher of scientific, technical and medical information products and services. Working in partnership with the global science and health communities, Elsevier's 7,000 employees in over 70 offices worldwide publish more than 2,000 journals and 1,900 new books per year, in addition to offering a suite of innovative electronic products, such as ScienceDirect, MD Consult, Scopus, bibliographic databases, and online reference works.
Elsevier (http://www.elsevier.com/) is a global business headquartered in Amsterdam, The Netherlands and has offices worldwide. Elsevier is part of Reed Elsevier Group plc (http://www.reedelsevier.com/), a world-leading publisher and information provider. Operating in the science and medical, legal, education and business-to-business sectors, Reed Elsevier provides high-quality and flexible information solutions to users, with increasing emphasis on the Internet as a means of delivery.
Dan O'Connell
Publicity Manager
Focal Press/Elsevier Science & Technology Books
p: 781-313-4726
c: 978-944-2879
###