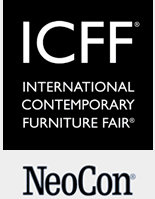 Focal Upright to Present New Products at ICFF in New York and NeoCon in Chicago
New York, NY 10001 (PRWEB) April 30, 2013
Martin Keen, Founder and CEO of Focal Upright, said that he is pleased with the response Focal's innovative leaning seat and adjustable height standing desk have received to date. "We've had strong interest from individual consumers, architects and designers, wellness professionals, ergonomists, corporations and educational institutions. Many clients have told us they like the Locus Seat as it works with any standing desk, and helps people work productively while maintaining mobile stability. Several people have told us they like the leaning posture the Locus Seat promotes as it helps eliminate the need for traditional sitting."
Professional ergonomists from Humantech have echoed the feedback Focal has received from customers; "The Locus Seat is a unique and viable option for (the emerging) sit-to-stand paradigm and may be superior to conventional workstations that allow the worker to alternate between the two postures… The Locus "seat" is not actually "sitting" in a traditional sense… The Locus Seat promotes mobility, reduces static loading and prevents static seated postures."
Leading academics, including Galen Cranz, Ph.D, author of The Chair: Rethinking Culture, Body and Design have also been supportive of Focal's approach. When she first tried the Focal Locus Workstation, Professor Cranz commented, "This is what I've been looking for!"
Focal Upright's Locus Seat and Locus Desk won the Attendees' Choice Award at the 2012 National Ergonomic Conference and Exhibition in December. The company's expanded product line will be in contention for the Editor's Awards at ICFF in May and the Best of Neocon in June.
To learn more about Focal Upright Furniture, please visit http://www.focaluprightfurniture.com
About Focal Upright Furniture
Founded in 2012, by Martin Keen, who previously founded Keen Footwear, Focal Upright Furniture delivers innovative, body-conscious furniture and other products to help people work better and live better. Focal products can be seen in Arlington, VA, Austin, TX, Boston, MA, Los Gatos, CA, New York, NY, Portland, OR, San Francisco, CA and Tolland, CT.
Steve Kirkpatrick
Focal Upright Furniture
401-694-0153
steve(at)focaluprightfurniture(dot)com