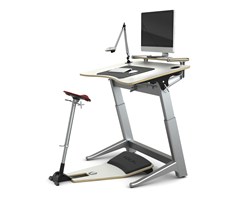 Does Your Life Insurance Cover Your Sedentary Lifestyle?
Portsmouth, RI (PRWEB) July 31, 2013
Please stand when reading this. According to a recent study, sitting in an office chair hunched over a computer screen may lead to an early demise.
Analysis of multiple research studies from such institutes as the Mayo Clinic (July 2012) and the Pennington Biomedical Center (May 2009) showed that people who have a sedentary lifestyle, largely sitting at a desk for hours on end every day, have a significantly higher risk of diabetes, cardiovascular disease and ultimately death. Exercise doesn't seem to mitigate these effects.
Most office workers are aware that sitting for extended periods of time is harmful to their overall health. Companies such as Google and Wikimedia have expressed serious concern and have since purchased the multi-award-winning Locus Workstation that was created by renowned designer Martin Keen, founder of Focal Upright Furniture.
The Locus Workstation, an ingenious new upright desk and seat combination, took home the Product Innovations Grand Prize for furniture systems from Buildings Magazine at NeoCon 2013. It also won the Attendee's Choice Award at the National Ergonomics Conference Exhibition in December 2012.
Famous for founding KEEN® Footwear, Keen took the matter of a "healthier" workstation for all to heart – searching for a design that would serve as a solution to his own needs. After revolutionizing the footwear industry, Keen created what is now seen as a much-needed innovation in the office furniture field.
Keen's Locus Workstation may be the most comfortable way ever devised to work at a desk. The user is neither sitting nor standing. They are somewhere in between. That's one of the Locus' most distinguishing characteristics. The user is supported in a leaning position by the adjustable Locus seat that gives them the impression that they are floating.
Among the most prominent benefits is that the Locus Workstation fosters good posture. It supports users leaning in to a neutral and natural position. There's no lumbar support, no backrest and no arms. The Locus seat is fully adjustable according to the user's height. Because it's not held in a rigid position, the seat promotes core muscle strengthening, improved blood circulation and mental sharpness. The open pelvic stance is extended to 135-degrees without causing hyper-extension of the back.
The desktop adjusts and tilts to preferred angles and heights. A stay-flat shelf is a great place to attach your flat screen monitors at an ergonomically-desirable height for a much more comfortable view of the screen. The Locus Workstation also offers additional options, including a 9-watt LED work lamp, an iMac mounting bracket and a cushioned anti-fatigue mat that's easy on the feet.
"We are delighted and proud that so many organizations and individuals have praised the Locus Workstation," said Keen. "It is creating a new way of working that is more ergonomically correct and may help provide a revolutionary kind of insurance America needs for a healthier workplace."
Readers who would like more information about Focal's Locus Workstation are invited to visit http://www.focaluprightfurniture.com..
# # #
EDITOR'S NOTE: To speak with Martin Keen, or to obtain more information about the Locus Workstation and Focal Upright Furniture, please contact Nancy Trent or Pam Wadler at 212-966-0024 or pam(at)trentandcompany(dot)com.