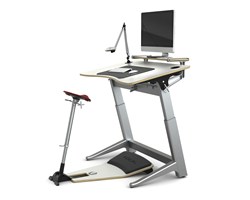 That place between sitting and standing is an ideal solution to "sitting disease."
Portsmouth, RI (PRWEB) July 31, 2013
You've devoured the pages of the bestseller, Lean In. You've discussed author Sheryl Sandberg's ideas. Now, learn the health benefits of a very different kind of leaning, in the form of the Locus Workstation from Focal Upright Furniture. Developed by Martin Keen, the brilliant spin on the standing desk takes being upright to a new, healthier angle.
People everywhere are taking note of the physical harm done after years of long-term sitting; standing desks are now something of a phenomenon. Writers Gregory Maguire (Wicked) and Philip Roth use them. David Brancaccio (APM's Marketplace Morning Report) stands to work. Ernest Hemingway, Leonardo da Vinci and Winston Churchill all worked standing up. And while sitting takes the cake for causing problems—it significantly raises the risk of diabetes, cardiovascular disease and ultimately an earlier death—standing all day is no walk in the park. Many will develop back, knee, hip and circulatory problems; and, it is fatiguing.
The ultimate solution is the Focal Upright Furniture's leaning posture which is achieved through using their innovative Locus Workstation. Designer Martin Keen, of KEEN® Footwear fame, started to germinate the seeds for his imaginative Locus Workstation in 1996. He had spent years designing shoes at his old adjustable-height drafting table, sitting on a high stool at the desk and feeling like a slumped-over slug. He tried standing, which was better, but found it was tiring after an hour or two. Finally, from a corner of his studio, Martin dug out an old, rusting stool made with a metal tractor seat. He tipped the stool forward and began leaning against the seat.
Within moments he realized he was on to something. That place between sitting and standing seemed an ideal solution. The new work configuration increased Martin's focus and productivity, allowing more and more of his design time to be spent sketching the ideal desk and seat that were taking shape in his mind.
The upright desk and leaning seat combination is picking up notable recognition from ergonomics and physiology experts and health-conscious office workers. It garnered the 2013 Buildings Magazine Product Innovations Grand Prize for furniture systems at NeoCon 2013. The workstation grabbed the Attendee's Choice Award at the National Ergonomics Conference Exhibition in December 2012. It also picked up a rave review from the forward thinking magazines Wired and Fast Company.
It's not just the creative types who are getting off their duffs. Focal Upright Furniture's Locus Workstation is on the floor at forward thinking companies like Google and Wikimedia. In addition, 10 percent of writer and COO Sheryl Sandberg's Facebook employees are upright devotees. Is it a coincidence?
Readers who would like more information about Focal Upright Furniture and the Locus Workstation are invited to visit http://www.focaluprightfurniture.com.