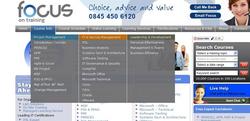 Average time on site has increased and bookings are up on prior year.
(PRWEB) September 7, 2010
The Focus on Training website has fast become one of the most popular choices when it comes to finding and booking accredited training in the UK, Ireland and other European countries.
The new Focus website consolidates the previous Project Management and IT Service Management sites to make it far easier to find the information or courses that both individuals and Learning & Development specialists require. In addition, the range of courses has been further strengthened in the areas of IT project management and IT security.
At Focus you can choose from over 10,000 training courses in 100 different locations. More popular courses are available every week in cities such as London, Birmingham and Manchester. The website includes a great deal of independent advice on course areas such as PRINCE2, ITIL, ISEB, PMI, APM, IT Security and Software Testing. With all this information available, website navigation is key to customer satisfaction.
New Features:
1. Megamenu
A drop down menu on every page of the site from which you can quickly reach the pages you need.
2. Bread Crumb Trail
At the top of the page there is now a set of links which can quickly take you to related pages.
3. A new "Zone" structure under a single domain name
There is more integration across the Project Management and IT sections. There is also a new Leadership and Development Zone where there are management, quality and interpersonal skills courses.
New Courses:
1. ScrumMaster
There is an expanded programme of ScrumMaster and associated courses to meet the growing demand for fast track and agile project management training
2. IT Security
Course options now include CISSP, CISM, CISA and Certified Ethical Hacker. There's a new fact sheet to explain more about these - and this can be downloaded free of charge.
Focus on Training Managing Director, Steve Twine is delighted with initial customer feedback: "Customers report that they never realised we offer so much background information. Average time on site has increased and bookings are up on prior year. We continue to invest in our training and services. Further enhancements to the design and functionality of the website can be expected over the coming months."
About Focus on Training:
Focus is a leading training organisation specialising in accredited best practice training for Project Management and IT Service Management. Courses are available on both a public schedule and on-site basis. There are also on-line learning options.
PRINCE2® and ITIL® are registered trade marks of the Office of Government Commerce in the United Kingdom and other countries.
###