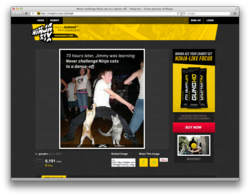 They could share GungHo with a funny image to get the discount; it went viral with >5000 ordered in under 7 hours. It took our site down -- Brandon Martin, IT Director, GungHo
Salt Lake City, UT (PRWEB) April 30, 2012
And then there was Pinterest. Over a matter of mere months, Pinterest finds itself among the top ten frequented social media sites along with such juggernauts as Facebook, Twitter, and YouTube, reaching 10 Million active users faster than any of them! Pinterest will be the start-up to talk about in 2012.
By "pinning" images you find around the web into categorized boards, Pinterest allows you to share the things you love with your friends and the world. It's much more of an interest network than merely a social hangout with your friends. Think of it as a visual smorgasbord of whatever it is you fancy.
So how do you find your way to pinning brand glory? We offer two "golden rules" for levering social media, with an emphasis on how to tweak it for Pinterest.
Social media is not a new thing. It's the only form of marketing that dates back to the beginning of human conversation, because social media before the Internet was simply called "what people talk about". The principles behind a solid social media marketing strategy are as basic as tying your shoes:
1. Create Content Worth Sharing
To be noticed, you must first be noteworthy. You have got to give your user a reason to talk about your product/service. There are a number of things that can define your content as great depending on your community, but to keep things simple, we will define great as something worth sharing.
2. Then Make It Easy to Share Your Content
This is where the current social media landscape has poured gasoline on the concept of word-of-mouth marketing. Never before has it been so easy to share something noteworthy with your friends on a massive scale. Pinterest only makes it even easier than the other sites to share an image.
One case study that executes on this concept flawlessly is a start-up out of Utah called GungHo. GungHo knew they wanted to harness the power of social media in order to sell their "focus shot for the brain" online. With a promise of "Ninja-like focus," they started by creating funny content about Ninjas, the hallmark of their visual brand. On a separate community site at ninjakix.com, users are encouraged to share funny images of Ninjas, with the Pin-It bookmarklet embedded right into the page. Then to make it even more enticing to share, they added a reward—when friends follow a shared link to ninjakix.com, a web banner for GungHo runs along-side the image. If any sale is made from the unique link, the referral is tracked back to the person who shared it. In return, referors get free GungHo as well as other prizes.
After proving the model on ninjakix.com, GungHo upped the ante by offering a free GungHo sample from their website to anyone that shared a funny Ninja video via social media sites like Pinterest. The offer worked so well they managed to ship more than 5,000 samples in just seven hours flat; far more viral than the prior social media start-up champion Orabrush that moved 10000 free samples in ten days.
The take home is that social media is all about sharing. Focus on creating media worth sharing, make it easy to share, and Pinterest could serve to produce a lot of sales for your brand.
About GungHo
GungHo is an energy gel shot for the brain. It was launched by Go GungHo, Inc. out of Salt Lake City, UT in early 2012. More than simple alertness, GungHo's proprietary blend of ingredients are proven to increase focus, concentration, memory storage, and memory recall, while avoiding the harsh rush, jitters, and crash common with other energy products.