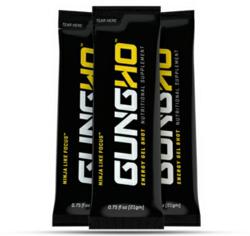 GungHo is the only energy shot or drink that contains natural ingredients at proven effective doses to improve focus and concentration. GungHo will increase levels of critical neurotransmitters in the brain -- Dr Renshaw, Director, The Brain Institute
Salt Lake City, UT (PRWEB) March 27, 2012
A study at the University of Utah found that over 50% of gamers are not satisfied with current energy shots and drinks. The ability to focus and stay awake for hours is a prerequisite for online gaming, so you'd think energy drinks would be the ticket. Yet many gamers avoid them because the harsh "rush," jitters and crash can be a distraction to their hand-eye coordination. "Caffeine cuts both ways. It can reduce performance as well as enhance it," says Dr. Dan Mowrey. "That is why most energy shots or drinks fail at both ends of your experience. The initial "rush" and "jitters" often disrupt mental focus and physical performance – the result of critical compositional imbalances that provoke the customary "crash."
Faster reactions with no distractions
A new focus shot – GungHo – claims to be the solution for gamers. Dr. Perry Renshaw, former Harvard professor and Director at the Brain Institute reviewed the GungHo formula and stated:
"GungHo is the only energy shot or drink that contains natural ingredients at proven effective doses to improve focus and concentration. Unlike other energy products that deal with short-term energy and no lasting impact on brain energy, GungHo will actually increase levels of critical neurotransmitters in the brain over time."
Says professional gamer Tanner "Brunson" Williams, "GungHo eliminates the delay between my wrist and my brain. Any FPS gamer knows keeping your cool and controlling your reactions is imperative. GungHo not only helps me plan my course of action but ups my reaction time exponentially."
The market for energy drinks is a huge red ocean, but with "faster reactions and no distractions," GungHo is betting it'll be worth talking about. Read the white paper or check out their launch offers at GoGungHo.com.
About GungHo
GungHo is an energy shot for the brain. It was launched by Go GungHo, Inc. out of Salt Lake City, UT in early 2012. More than simple alertness, GungHo's proprietary blend of ingredients are proven to increase focus, concentration, memory storage, and memory recall, while avoiding the harsh rush, jitters, and crash common with other energy products.