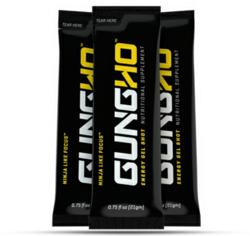 "GungHo is the only energy shot or drink that contains natural ingredients at proven effective doses to improve focus & concentration. GungHo will increase levels of critical neurotransmitters in the brain over time. -- Dr Renshaw, Dir, Brain Institute
Salt Lake City, UT (PRWEB) March 29, 2012
There's a growing epidemic across college and even high-school campuses. Students are popping pills to get an edge, but the consequences can be deadly. A study in the journal, Addiction, found that one in four college students abused Adderall® – a drug prescribed to treat Narcolepsy and ADHD – using it without a prescription. "It's pretty common. I know people that use it to cram for a test or stay up late. It helps people focus for a couple of hours," said Katie Savercool, a college senior.
Deadly Results
Adderall carries a "black box warning", the most severe for a prescription medication. It is a schedule two controlled substance, in the same category as cocaine. Offenders can end up in prison for selling or giving it away. "Adderall is the mixture of several stimulants. Stimulant medications increase the risk of having a seizure," warned Dr. Suena Massey, a professor and psychiatrist at George Washington University Medical Center. "The primary ingredient is amphetamines. It's the same drug used in methamphetamines, cooked up in meth labs. Amphetamines are very addictive, highly addictive."
In 2005, Shire Pharmaceuticals, the creator of Adderall, reported 20 sudden deaths from the use of its extended version of the drug: Adderall XR. Most of the victims had undetected heart conditions. There is clear danger in taking these drugs without a prescription – russian roulette with a lethal reaction.
A Safer Alternative
University research has lead to a new focus drink, GungHo, with unique natural claims -- increased focus, memory storage and recall -- to help kids study. Said Dr. Perry Renshaw, former Harvard professor, Director at the Brain Institute and renowned brain health scientist: "GungHo is the only energy shot or drink that contains natural ingredients at proven effective doses to improve focus and concentration. Unlike other energy products that deal with short-term energy and no lasting impact on brain energy, GungHo will actually increase levels of critical neurotransmitters in the brain over time."
Students are realizing they don't need to risk taking black market drugs to get ahead in school. "I had a prescription for Adderral® for 3 years. I just dropped it and take GungHo now," says Simon Wright, college senior. "While it's not a drug, it gives me the same feeling of calm focus without jitteriness and I feel no crash. Plus I don't feel the pressure in the back of my head or jaw tension that I had on Adderral®."
Read the white paper or purchase GungHo exclusively online at http://www.GoGungHo.com.
About GungHo
GungHo is an energy shot for the brain. It was launched by Go GungHo, Inc. out of Salt Lake City, UT in early 2012. More than simple alertness, GungHo's proprietary blend of ingredients are proven to increase focus, concentration, memory storage, and memory recall, while typically avoiding the harsh rush, jitters, and crash common with other energy products.