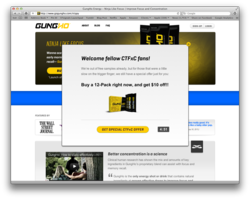 Shipped over 5,000 samples in just seven hours – far more viral than former YouTube poster-child – Orabrush. They moved 10,000 samples in five weeks.
SALT LAKE CITY, UT (PRWEB) April 05, 2012
Social media is not a new thing. It's the only form of marketing that dates back to the beginning of human conversation, because social media before the Internet was simply called "what people talk about". The five steps behind a solid social media launch are as basic as tying your shoes. Yesterday, in their first launch campaign, a start-up out of Utah named GungHo executed on these concepts flawlessly:
STEP # 1: Deliver a Relevant Product & Promise.
First and foremost, your product and message need to appeal to your target audience.
a.) Identify the customer's desperate problem
GungHo polled target college students nationwide and learned they craved "focus" to boost their GPA. Indeed they discovered a black market epidemic on college campuses. A study in the journal, Addiction, found that one in four college students abused Adderall® – a highly addictive drug prescribed to treat Narcolepsy and ADHD – using it without a prescription.
b.) Offer a unique solution
GungHo positions itself as a natural alternative for "Ninja-Like Focus". Proven focus and memory recall rather than an illegal, dangerous drug or a quick fix energy shot and crash.
c.) Back it up with compelling evidence
Said Dr. Perry Renshaw, former Harvard professor, Director at the Brain Institute and renowned brain health scientist: "GungHo is the only energy shot or drink that contains natural ingredients at proven effective doses to improve focus and concentration. Unlike other energy products that deal with short-term energy and no lasting impact on brain energy, GungHo will actually increase levels of critical neurotransmitters in the brain over time."
STEP #2: Identify A Vibrant YouTube Community Of Your Customers.
GungHo sent their shots to Charles Trippy and his wife Allie. Their YouTube channel CTFxC matched GungHo' target market perfectly.
STEP # 3: Make An Exclusive, Irresistible Offer, With A Reason To Act Immediately.
Trippy told his fans about GungHo' exclusive offer – the first 500 to hit http://www.GoGungHo.com/TRIPPY could get a free shot (no cc required; the shots typically cost $3). Afterwards they'd still get it "cheap". His entourage flooded GungHo' website – grabbing 4000 samples in a little over 3 hours. For those "slow on the trigger", GungHo still gave them $10 off a 12-pack – an exclusive deal.
STEP # 4: Create Content Worth Sharing.
To be noticed, you must first be noteworthy. You have got to give your customer a reason to talk about your product or service. There are a number of things that can define your content as great depending on your community, but to keep things simple, we will define great as something worth sharing.
With a promise of "Ninja-like focus," GungHo started creating funny content about Ninjas, the hallmark of their visual brand. On a separate community site at ninjakix.com, users are encouraged to share and re-caption funny images of Ninjas. GungHo integrated Ninjakix.com into their thank-you page at http://www.GoGungHo.com. Once Trippy fans got their free sample or bought a box, they were invited to share a funny image with their friends. To make it even more enticing to share, GungHo offered another reward—when friends follow a shared link to ninjakix.com, a web banner for GungHo runs along-side the image. If any sale is made from the unique link, the referral is tracked back to the person who shared it. In return, referors get more free GungHo as well as other prizes. Two simple premises: First, Ninjas are inherently interesting. GungHo' target demographic google Ninjas over 14 Million times a month! Second, people love to re-caption and share funny images (as proven by LOL cats and other user generated communities). Ninjas on the packaging, "Ninja-Like Focus" and a Ninja image community.
STEP # 5: Make It Easy To Share.
What did Trippy' fans have to do to get their free sample? They simply had to hook their friends up with that same free sample link via Facebook, Twitter or Pinterest. "It went viral", says Goodwin, co-founder. "For every shot we gave away, hundreds more (their friends) were exposed to GungHo…and they all had to share to get their free sample... it ballooned and crashed our site." The funny Ninjakix images on the thank-you page were also super easy to share, with the Pin-It bookmarklet, Facebook and Twitter embedded right into the page. And share them they did. One image alone got over 7000 views. The offer worked so well they managed to ship more than 5,000 samples in just seven hours flat; far more viral than the prior YouTube poster-child – Orabrush – that moved 10,000 samples in five weeks. GungHo also gained thousands of new sneezers on Twitter and Facebook.
The take home is that social media is all about sharing. Focus on creating relevant content worth sharing, make it easy to share, and you may Go GungHo with your own product launch.
About GungHo
GungHo is an energy gel shot for the brain. It was launched by Go GungHo, Inc. out of Salt Lake City, UT in early 2012. More than simple alertness, GungHo's proprietary blend of ingredients are proven to increase focus, concentration, memory storage, and memory recall, while avoiding the harsh rush, jitters, and crash common with other energy products.