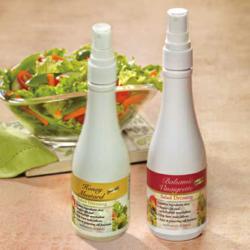 The new salad dressings are just another way for people to go about their busy daily lives while easily being able to stick to their diet
(PRWEB) February 17, 2012
Focus28 is proud to announce a new addition to their line of high protein diet products. Their new salad dressings are available in two popular flavors, Honey Mustard and Balsamic Vinaigrette. Both flavors are low in calories, carbohydrates and fat.
Mitch Suss, CEO and Founder of Focus28 stated "Salad is a common staple of dieting and fits into almost all meal plans. When appropriate, expanding product offerings to include a salad dressing enables certain dieters to get more of the foods that are needed to be successful on a high protein diet program, directly from us."
Focus28 has a history of offering a healthy, diet friendly alternatives to popular foods such as pancakes and cheesy macaroni. The new Honey Mustard and Balsamic Vinaigrette salad dressings are part of Focus28 taking yet another step to improve the quality of weight loss food, while helping both men and women to accomplish their weight loss goals.
Suss continued to say, "Our new salad dressings are in a portable sprayer bottle and not a traditional pour bottle so they help aid in portion control and are a convenient, cost-effective solution. As with all Focus28 products, since they replace a grocery item, they add additional revenue. Best of all, they provide quality nutrition that tastes great, so dieters will be more likely to enjoy their salads."
In house fitness expert, Lisa A, stated "Focus28 has primarily designed products that are easy for people who live a fast paced life like our Iso-Towel workout or our wide variety of high protein snack bars. The new salad dressings are just another way for people to go about their busy daily lives while easily being able to stick to their diet".
To learn more about Focus28 high protein diet products, included their new salad dressings go to http://www.focus28diet.com.
###