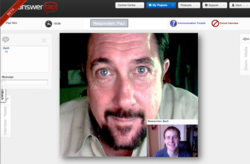 Amazing fast, affordable consumer market research on demand
Seattle, WA (PRWEB) November 15, 2012
In-depth consumer interviews and focus groups, in which respondents react to, validate, and discuss a brand's proposed business decisions out of the public eye, are one of the most effective qualitative market research tools available. Until now, these tools have been expensive and time consuming, often costing thousands of dollars and taking weeks to complete. AnswerTap, a Seattle-based startup, is seeking to change the game with a new affordable online face-to-face video service. It streamlines the recruitment process, shortening it from weeks to minutes.
Today, AnswerTap launched its Consumer Webcam Interview Service. This new offering allows marketers and researchers to participate in real-time webcam interviews with targeted respondents pulled from a pool of over 9 million people. Users simply define their desired demographics, and a respondent matching the specified criteria appears within minutes. Weeks of recruitment and scheduling to find the correct respondents have been eliminated, even for hard-to-find demographics. Instead of wasting time and money tracking the right people down and conducting meetings, companies can cut right to the actual research with unprecedented speed.
In contrast with costly traditional focus groups, and the less-private "social listening" and crowd-sourcing tools on the market, AnswerTap webcam chats are a fraction of the pricing of traditional alternatives. Interviews take place on a secure platform. The privacy and security of AnswerTap enables companies to ask respondents sensitive questions relating to true emotions and actual product usage.
Face-to-face interviews conducted via webcam also provide much greater market insight than typical consumer surveys. "Face-to-face communication with consumers helps researchers and marketers pick up on nonverbal cues they could be missing with simple text surveys," says Anthony Izzo, Marketing Manager at AnswerTap.
AnswerTap is a powerful way to get direct, nuanced consumer insights quickly and affordably. "We are determined to lower the cost and shorten the response time of qualitative research," said Zach Simmons, AnswerTap's founder, "People are facing budget constraints and faster deadlines, and AnswerTap is a solution to these challenges."
AnswerTap is now in a public beta. Those looking for more details or who want to give it a try should visit http://www.answertap.com.
# # #
About AnswerTap: AnswerTap was founded in 2012 to make on-demand market research available to companies of all sizes. Using a massive pool of respondents, AnswerTap enables decision-makers to target their desired niche and get answers at any time on a variety of market research questions, from product development and optimization, to brand and segment exploration, to testing for advertising, package design, and web concepts. Please call 866.557.6716 for more information about the company.