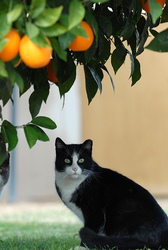 Feral Freedom is the one model that can be implemented anywhere that a nonprofit animal organization and a city are willing to work together.
Jacksonville, Fla. (Vocus) February 16, 2010
Communities are following the lead of a successful joint program of a national animal welfare organization, a Florida animal welfare group and a Florida city to address the "free-roaming cat issue."
Shelly Kotter, campaign specialist for Best Friends Animal Society's Focus on Felines said, "Feral Freedom is the one model that can be implemented anywhere that a nonprofit animal organization and a city are willing to work together."
Rick DuCharme is the executive director of First Coast No More Homeless Pets in Jacksonville, Fla. First Coast has partnered with national animal welfare organization Best Friends Animal Society , the City of Jacksonville, and Jacksonville Humane Society in "Feral Freedom." The cats that arrive to the city animal shelter in traps are turned over First Coast to be spay/neutered then returned to their original trap location in the process known as "Trap-Neuter-Return" or "TNR."
These cats are referred to as "community cats" and close to 7,000 of them have been helped since the program's inception in August 2008. TNR saves communities money. Costs vary from community to community, but in general, it costs about 50 percent more to trap and kill cats than to employ TNR. DuCharme calculates Feral Freedom is saving the City of Jacksonville between $130,000 and $150,000 annually.
Word of the success of Feral Freedom has been spreading and communities in Florida, South Carolina, Washington and Ohio have studied Feral Freedom and are developing their own humane programs intended to stop the breeding and provide support to caregivers for these community cats.
In fact, the first program based on Feral Freedom was adopted in January 2010 in South Carolina by Charleston County Community Initiative, which is a program of another national animal welfare organization, ASPCA (American Association Society for Prevention of Cruelty to Animals). This adds a new component to Charleston County's already existing programs for community cats. Charleston County has 17 different municipalities, and local ordinances had to be passed to allow for free-roaming cats.
Joe Elmore, ASPCA director of Charleston County Community Initiative, said "we are mostly adopting the Feral Freedom's idea of transportation of cats in stable health back to the vicinity where they were trapped. Because we know without returning the cats to their previous location, the most probable outcome for a feral cat in a shelter is that it will be killed.
"The groundwork we've laid with the council members and officials has worked thus far. The City of North Charleston officials approved the program through an interpretation of its current ordinance. The City of Charleston unanimously approved the program through the introduction of a new ordinance which became law on November 16, 2009, and Charleston County approved a new ordinance in December."
Meanwhile in California, a recent ruling by a California judge (Los Angeles Superior Court – Case #BS115483) has barred the City of Los Angeles Department of Animal Services from their nominal support of TNR.
When she compares the success in Florida with the recent ban in California on local government support for TNR, Kotter said she is baffled:
"Without TNR, last season's kittens will be breeding this spring and will no doubt be increasing the number of cats on the streets in Los Angeles. It's ironic that advocates for birds brought the case to court since TNR has been proven to humanely reduce the number of free-roaming cats. We know that killing community cats is not the way to decrease the numbers ... if killing them worked, we would not have an estimated 50 to 80 million homeless cats across the country."
Elmore said he also is puzzled by opposition to these programs by people who say the cats are killing birds. "We are trying to solve their problem for them. The point of TNR is to radically reduce the number of homeless cats on the street. We presented the councils with statistics for the last five years proving that removal and euthanasia does not work. TNR works, is more humane, and saves taxpayers money."
About Best Friends Animal Society
Best Friends Animal Society is a nonprofit, membership organization building no-kill programs and partnerships that will bring about a day when there are No More Homeless Pets. The society's leading initiatives in animal care and community programs are coordinated from its Kanab, Utah, headquarters, the country's largest no-kill sanctuary. This work is made possible by the support of a grassroots network of members and community partners across the nation. "A better world through kindness to animals."
MEDIA CONTACTS
Barbara Williamson
(435) 644-4408 (office)
(435) 689-0200 (cell)
barbara(at)bestfriends(dot)org
John Polis
(435) 644-4858
johnp(at)bestfriends(dot)org
Temma Martin (Salt Lake City)
801-953-8876 (cell)
temmam(at)bestfriends(dot)org
# # #