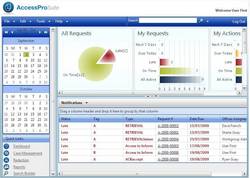 Recommendations by oversight bodies such as the Department of Justice in the US for improving FOI processes include using automated tracking capabilities and receiving and responding to requests electronically to improve FOIA request handling;
Arlington, VA (Vocus) September 21, 2009
Privasoft, the world leader in freedom of information (FOI) process automation, announced today the availability of AccessPro Suite v. 2.1. With this release, freedom of information (FOI) teams gain feature enhancements designed to speed up request turn-around, meet citizen-centric objectives and obtain greater administrative control.
Privasoft's AccessPro Suite is purpose-built software for automating the process of responding to requests for public information. The solution is specifically aimed at improving the disclosure of information mandated by legislation including the freedom of information (FOIA), access to information and privacy (ATIP) and public and open records acts. Governments all over the world use the AccessPro Suite to track and report on requests while electronically redacting sensitive content from responsive documents.
Speeding up request turn around
Document retrieval represents a time consuming step in the FOI response. Enhancements to AccessPro Workgroup facilitate extending document handling outside the processing team. Rather than photocopying and shipping documents from office to office, responsive records and documents can be imported or scanned at the source to immediately become part of the electronic response process. Early results have shown that customers using AccessPro Workgroup, such as the Ontario Ministry of Environment are experiencing reductions in the average document retrieval time of more than 90% and a reduction in the number of pages photocopied by close to 90%.
Delivering superior citizen service
A major enhancement to the AccessPro Suite is the ability to leverage the power of Microsoft Sharepoint through the AccessPro Portal. Newly integrated with Microsoft Sharepoint, AccessPro Portal provides FOI teams with the ability to support reading room and proactive disclosure initiatives with a powerful document repository. Now, not only can requesters submit requests online and track the status of their requests, but they can also retrieve responsive materials through the same web interface. Previously released and proactively disclosed documents can be made available through online reading room, to get ahead of requests before they are officially filed.
Improving control
Through improvements in administrative functions available in AccessPro Suite 2.1, FOI administrators can better support internal records retention policies with an enhanced Retention and Disposal feature that permits the disposal of files and related content based on a defined schedule. New security settings support the most stringent security restrictions and setting global search settings makes it easier for analysts to find what they want, when they want it. Enhancements to the processing of the US Annual Report make FOIA analysts optimally productive.
"Recommendations by oversight bodies such as the Department of Justice in the US for improving FOI processes include using automated tracking capabilities and receiving and responding to requests electronically to improve FOIA request handling;" explains Privasoft CTO Stephen Davis, "the enhancements included with AccessPro Suite 2.1 are specifically designed to meet these needs, among many others included to achieve maximum operational efficiency." He adds: "Government agencies should continue to look toward model FOI teams such as those at the US Department of Agriculture, the US Federal Reserve and the Ontario Ministry of Environment who are forming best practices for automating FOI processing."
About Privasoft
For nearly 20 years, Privasoft has been delivering software and services to automate case management in the public sector and regulated industries. Privasoft customers must comply with legislative, regulatory and internal requirements and are represented in health care, law enforcement and all levels of government. They rely on Privasoft to capture, analyze, track, process and report on case work related to information disclosure processes. Privasoft is a Microsoft Certified Partner with offices in Ottawa, ON, Arlington, VA and Brentford, Middlesex.
###