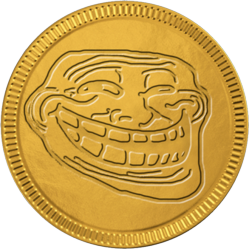 Internet memes stamped on chocolate coins are a fun way to reach a younger, web-savvy audience.
Humble, TX (PRWEB) June 25, 2013
Foiled Again! Chocolate Coins LLC, an e-commerce retailer of personalized chocolate coins has started engaging a younger generation of consumers by marketing to them with imprints of popular "memes" on its chocolate coins.
Memes are a relatively new social media phenomenon, usually springing up spontaneously in the form of humorous pictures with funny or sarcastic text overlaid on top of an image of a person, animal or event. Memes often go "viral", achieving massive visibility through social media channels such as reddit, Facebook, and Twitter among others. Over the past five years, social media marketing has exploded and has become a key component of many small business's marketing strategy.
At the onset of Foiled Again!'s campaign, five wildly popular memes were identified from the popular social community and aggregation site reddit. The memes were then converted to designs for chocolate coins and added to a new meme category on Foiled Again!'s custom coin creation page.
A blog post was then created introducing the meme chocolate coins and a link to the blog was posted on reddit, along with an ad using the site's pay-per-click advertising system.
Foiled Again! plans to continue this campaign, adding additional meme coins as they gain viral awareness.
About Foiled Again! Chocolate Coins
Founded in 2007 as The Chocolate Coin Store, the company was rebranded as Foiled Again! Chocolate Coins LLC in 2010 to emphasize a new vision and strategic direction. The company manufactures "wicked good" custom chocolate coins and chocolate casino chips using Pure Belgian Callebaut® Chocolate.