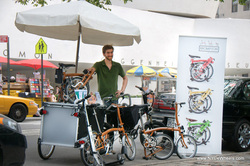 said Mark Kleback, a specialist at NYCeWheels.
New York, NY (Vocus) July 13, 2010
NYCeWheels, the premier electric and folding bike retailer, are traveling with a mobile trailer to give free test rides of their electric and folding bikes to promote alternative transportation. NYCeWheels holds the primary concern of convincing people to ditch their car and hop on a bike. New York City is the largest city for bicycling in the country, and NYCeWheels, located in Yorkville, is situated to make a change in the way commuters get to work. With the aid of non-profit groups like Transportation Alternatives, the number of bicycle commuters and bike lanes has increased dramatically over the past few years. Still, many commuters are unwilling to ride a bicycle in the busy Manhattan streets for many reasons. Some cite the high volume of traffic and minimal bike lanes as a safety concern, while others do not have storage at home or at the workplace for a bicycle. Also, many find it undesirable to show up to their job covered in sweat. Whatever the reasoning, it is evident that commuting by bicycle is still a small (but increasing) percentage of city commuters.
Folding bikes are great for Manhattan, because you don't have the risk of locking them outside," said Mark Kleback, a specialist at NYCeWheels. "Riding a bike to work is great exercise, and it makes the city much smaller when you don't have to go underground and wait for trains."
In addition to folding bikes, NYCeWheels also specializes in electric bikes, as well as electric bike conversion kits.
Electric bikes are much more practical now than they were five years ago. The batteries can last up to twenty miles on a single charge, which is well over the average commuter distance in New York City. This eliminates the concern of sweating while biking to work.
Regular bikes can be retrofitted with electric motors, so buying a whole new bike is unnecessary. Many people really like the bike they already ride, but wish they had some more help going up a hill. It is possible to place an electric motor kit on almost any bike, even a folding bike.
Located on the Upper East Side, NYCeWheels has to fight a bigger battle than most bike shops downtown.
"It would be great to have bike lanes on the east side like the Hudson River Greenway, or the separated bike lanes on 8th Avenue downtown. People are much more willing to ride a bike if they feel safe. We're petitioning for safe bike lanes on First and Second Avenue that extend north past Central Park," states Kleback. "Transportation Alternatives does a great job for bicycle awareness, and they've made a lot of progress over the past few years with bike lanes downtown. Hopefully we'll see some changes taking place around here in the near future."
To promote their special bikes, NYCeWheels built a trailer that is pulled by an electric folding bike. They will stop at various parks around the city and offer test rides on their folding bikes and kick scooters. While the demo models will not be for sale, all of the products can be purchased at the NYCeWheels store at 1603 York Avenue.
###