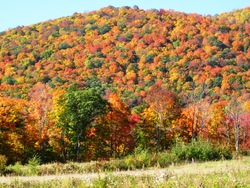 Killington, VT (PRWEB) August 14, 2009
Appalachian Trail Adventures (ATA) is excited to announce that the fall foliage hiking season is around the corner. Vermont's Green Mountains will transform as Mother Nature works her artistry coloring the mountainsides with brilliant oranges, reds and yellows mixed between the evergreen trees. ATA is the only hiking program open during the month of October in the Killington-area and recommends a visit between September 25th and October 12th for those leaf peepers seeking to experience the fall foliage at its peak color.
"Vermont is well known for its spectacular fall colors, the changing leaves are beautiful view along the hikes and drives. Our programs offer a reasonably priced fall foliage packages for hikers who want to take advantage of everything this time of year has to offer. There is a program to suit just about everyone, from the single traveler, first time hiker, seniors, vegetarians, to couples. It's the best time of the year to go hiking; no bugs, cool temperatures, less crowds and spectacular foliage colors." states John Keough, Founder of ATA.
Appalachian Trail Adventures provides a hiking spa vacation with guided hikes in the Green Mountain National Forest for all abilities. Programs include daily transportation, breakfast, lunch, dinner and accommodations starting at $168.00 per night, per person. Daily a la carte options are available including massage, yoga, tennis, kayaking, cooking classes and more. Working with registered dietitians, ATA has produced a delicious spa menu balancing carbohydrates, proteins and healthy fats. Their chef is able to accommodate special dietary needs and restrictions adapting to hiker's diet.
ATA's 2009 season runs from June 1st to October 12th.
For more information please visit http://www.appalachiantrailadventures.com
CONTACT:
John Keough, Founder & Guide
888.855.8655
# # #